Kiwi Pineapple Smoothie (Non-Dairy)
alligirl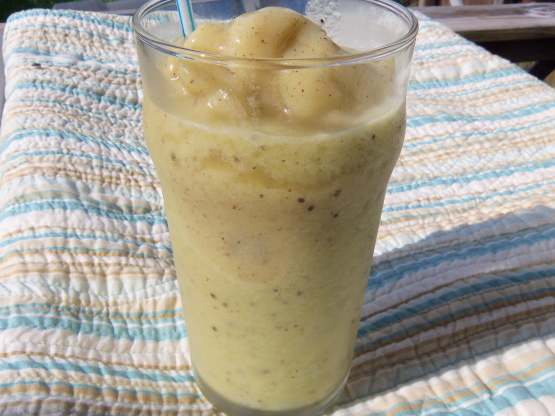 I made this up today for breakfast and liked it, so I am gonna go out on a limb and share it. We are not big on extra sugar (or calories for that matter) in our home, so this recipe uses fresh or unsweetened canned fruit and Splenda. It is sweet but tart and quite delicious.

I really enjoyed this smoothie. I added the banana and wanted to add some frozen strawberries, but someone had eaten them all - no matter. It was great, as written. I did add a squirt of honey, to suit my taste. This was very refreshing, JanuaryBride. Thanks for sharing!
2

kiwi fruits, peeled
1⁄2 cup unsweetened pineapple juice (from the can or if using fresh pineapple then just add water)
1⁄2 banana, frozen
1⁄2 cup strawberry
1⁄4 cup spinach (optional)

5

ice cubes
Blend together all ingredients in your choice of smoothie maker (we have a Ninja, but a regular blender works great too).
You may need to add up to 1/4 cup more juice if it is too thick for you.