Kittencal's Warm Potato Salad With Eggs
Parsley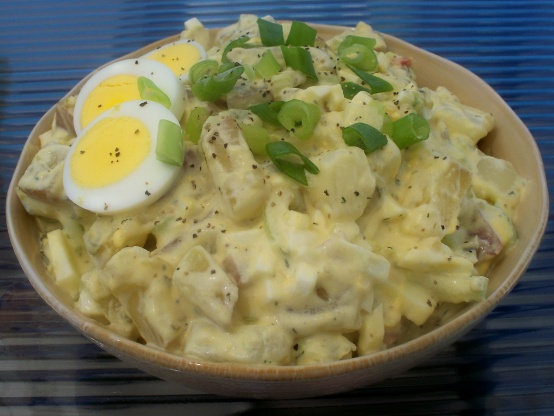 This salad it good in all seasons, you can omit the sour cream and use all mayo, I prefer it with the sour cream, since I really don't bother with exact amounts when I make this, the amounts listed are only a guideline but close to what I use, you certainly may adjust all ingredients to taste, and the recipe may be doubled :)

This was delish. I followed Boho Chick's lead and boiled my diced potatoes then added them to the dressing. This was my first time making potato salad and I was very happy with the result.
Place the whole potatoes in a large pot, cover with water and bring to a boil, cook until JUST tender (do not cook the potatoes until very soft or they will break apart when mixing).
Drain and dice the potatoes, then place in a large bowl.
Place the eggs in a saucepan and cover with cold water; bring to a boil and boil for 1 minute; cover then remove from heat and let the eggs sit in the water for 20 minutes.
Peel eggs and coarsley chop, then place into the bowl with potatoes.
Add in celery and green onion; toss gently to combine.
In a bowl mix together mayonnaise, sour cream, relish, mustard and seasoned salt, garlic powder and dill (if using) mix until well combined; add to the potato mixture and toss gently to combine.
Season with more salt and pepper if desired.
Serve warm.