Kittencal's Thick and Rich Creamy Tomato Soup (Low-Fat Option)
luvmybge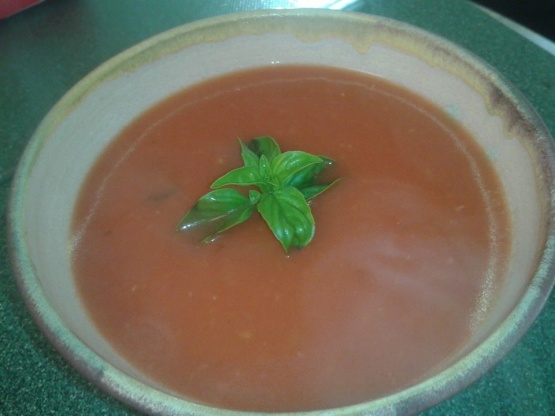 This is 100% better than any canned tomato soup! --- If you find that the soup is too thick for your liking you may thin out with more tomato juice during cooking if desired, I strongly suggest to use V-8 tomato juice for the best flavor, this soup will only improve in flavor the longer it is cooked and it tastes even better the next day, it also freezes well -------- LOW-FAT OPTION reduce the butter amount or use a healthy alternative such as Smart Balance Butter Blend and use fat-free milk or fat-free half and half

Ive made this many times now. The first time I followed the recipe exactly & it was good. The 2nd time I omitted the tomato juice & used 3 cans of crushed tomatoes, then used a stick blender to puree it. It was utterly delicious! I now only make it with the crushed tomatoes (never with the juice) but I often add courgette - equally delicious!
In a bowl combine 2 cups tomato juice with crushed tomatoes and milk.
In a saucepan melt the butter over medium-high heat.
Add in onion and dried oregano; saute until softened (about 3 minutes).
Add in garlic and red pepper flakes; cook stirring for 2 minutes.
Add in flour and stir for 1 minute.
Slowly add in the tomato/milk mixture whisking constantly to remove any lumps; bring to a boil stirring frequently until bubbly and thickened, then season with sugar, salt and pepper (the mixture will be quite thick).
Reduce heat to low, add in remaining 1 cup of tomato juice (or more) and simmer uncovered for 45 minutes to 1 hour (can simmer longer if desired, if the soup is still too thick for your liking add in more tomato juice and keep seasoning with salt and pepper if needed during cooking).
Ladle into bowl then sprinkle with Parmesan cheese and croutons if desired.
Delicious!