Kittencal's Strawberry Shortcake
Ashley Cuoco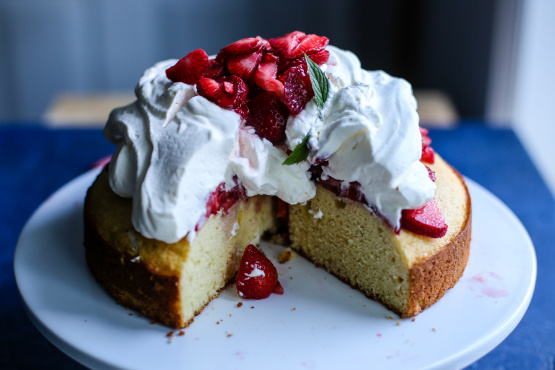 You won't find this anywhere else this is my own recipe that I developed, the delicious yellow sponge-like cake that is just dense enough to hold the strawberries and whipped cream after making this you won't go back to any other recipe! -- plan ahead the strawberries must sit in the sugar for minimum of 6 hours to release their juices, the more sugar the better! really you can use as much whipped cream and strawberries as desired, the amounts listed are only a guideline! If desired you can make two separate cakes topped with berries and whipped cream in place of the layered. Due to the small amount of liquid in the cake it is important to have the eggs and butter at room temperature and the milk lukewarm or all the ingredients will not incorporate together while mixing.

Top Review by VA3212
Made exactly as directed (I was afraid not to with all the warnings in the instructions!). The cake turned out terribly dry and DH (very gently) asked me not to make this again. I even reduced the bake time by 5 minutes.
2

pints fresh strawberries (hulled and sliced, or use as much as desired)
1⁄2 cup sugar
sweetened whipped cream (use any amount desired for middle and top of the cake)

CAKE

1

cup butter, room temperature (no substitutions)

1

cup sugar (for a sweeter cake use more sugar)

4

large eggs (MUST be room temperature)
1⁄4 cup luke-warm milk

1

teaspoon almond extract (or use strawberry extract)

2

teaspoons vanilla extract

2

cups all-purpose flour

2

teaspoons baking powder
Wash and remove the stems from each berry then slice.
Place the sliced berries into a glass bowl, add in 3/4 - 1 cup cup sugar (the more sugar the better) toss with a spoon until well coated (the sugar will dissolve when chilled).
Cover and refrigerate for 2 hours or up to 6 hours.
Generously grease two 8-inch round cake pans.
In a large bowl using an electric mixer at medium speed cream together the butter and sugar until well blended (about 3 minutes).
Add in eggs and extracts beat on medium speed for 4-5 minutes or until no sugar granules remain in the mixture.
Add in milk; mix until combined.
In a small bowl mix the flour with baking powder and add to the creamed mixture; beat until combined.
Divide and spread the batter between the two prepared baking pans (batter will be thick!).
Set oven to 350°F (set oven rack to second-lowest position).
Bake for about 22 minutes or until cakes test done (do not overbake cakes).
Cool the cakes slightly in pan then invert each cake onto a plate to cool completely.
Place HALF of the strawberries with a little juice over the top of one cake, then dollop HALF of the whipped cream.
Top with the other cake, then strawberries and top with remaining whipped cream.