Kittencal's Strawberry-Glazed Pie
MsSally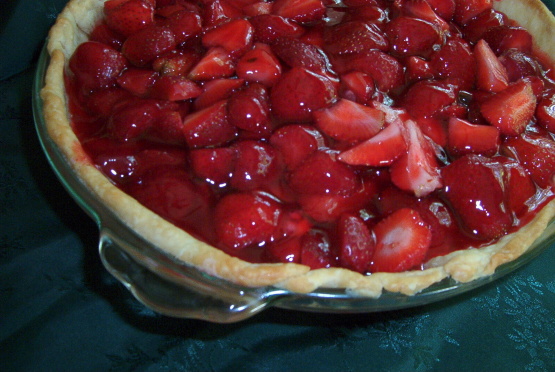 A long time family favorite, fresh strawberries in a delicious glaze piled onto a baked crust then topped with whipped cream, you can use a regular baked pie crust or a graham pie crust, a purchased graham cracker crust makes this easy but of coarse you may make your own crust --- I have even added in strawberry extract for even more flavor in the glaze, but that is only optional --- plan ahead the pie must chill for about 4 hours or until completely set before topping with the whipped cream, prep time includes chilling time.
7

cups sliced fresh strawberries (sliced in half or in thirds)
2⁄3 cup sugar

1

cup water
1⁄3 cup strawberry gelatin (I use Jell-O gelatin for this)
1⁄4 cup cornstarch (measured out exactly 1/4-cup)

3 -4

drops red food coloring (or as desired)

1

(9 inch) pie pastry (use a deep-dish crust baked and cooled completely, or can use a prepared graham cracker crust)

2

cups whipped cream (or to taste)

1

cup fresh sliced strawberry, for the top (optional)
In a lage saucepan place the sugar, water, strawberry gelatin powder and cornstarch; bring to a boil and boil mixing constantly for about 1 minute.
Remove from heat and add in red food colouring (use as much food colouring as you wish to acheive the colour desired).
Fold in 7 cups sliced strawberries; toss well with a wooden spoon or spatula to combine.
Transfer to prepared crust.
Refrigerate for about 4 hours or until completely set.
Top pie with whipped cream.
Place more sliced strawberries on top of whipped cream if desired in a decorative fashion.