Kittencal's Spinach Salad With Balsamic Honey-Dijon Vinaigrette
Rita1652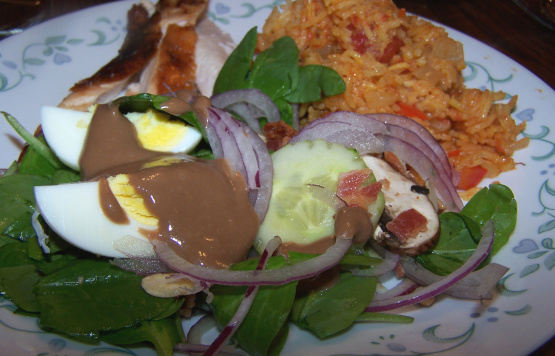 If you are a spinach salad-lover then this is one you should not pass up! Serve this to your guests or family then sit back and wait for all the rave reviews you will get! Add in some cooked shrimp or chicken breast if desired! the dressing can be made up to 2 days in advance, it will need a minimum of 2 hours chilling time to blend flavours, the dressing will make about 3/4 cup but it can easily be doubled. The salad amounts are only a guideline, all amounts can be adjusted to taste. Also see my Kittencal's Famous Greek Salad and Kittencal's Famous Caesar Salad.

Top Review by KPD123
this salad is fantastic! i always love the combinations of spinach, red onion, blue cheese and bacon!!! yummy!! it's really the dressing that sets this salad apart from the rest! this is quite possibly my new favorite salad dressing! followed the recipe to a T, except for doubling the garlic and bacon! :) you know me! thanks for another outstanding keeper, kitten!! you amaze me everytime!!!
For the dressing; in a bowl whisk together garlic, salt, Dijon, honey and balsamic vinegar; add in olive oil in a slow steady stream until emulsified.
Adjust honey amount adding in more if desired for a sweeter taste, then season with more salt if needed, and black pepper.
Chill for a minimum of 2 hours before using.
For salad; place the spinach leaves in a large glass bowl; top with sliced mushrooms, bacon, blue cheese or feta cheese, croutons and sliced red onion (if using).
Toss all ingredients together with salad forks.
Season with black pepper (and salt if desired).
Place the egg wedges all around inside edges of bowl.
Serve with prepared dressing on the side.