Kittencal's Spinach & Four-Cheese Manicotti (Vegetarian)
amri92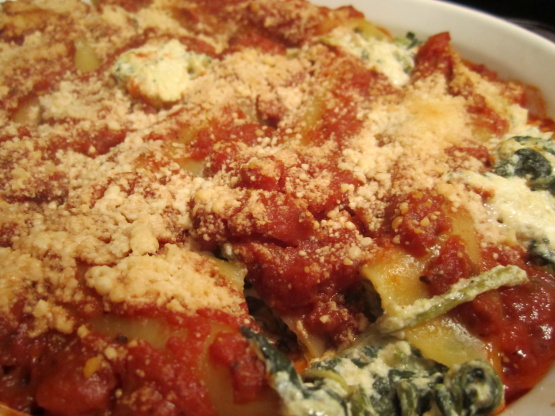 I have been making this recipe for years, it is *the best* manicotti recipe hands down! --- I have made this many times for dinner parties and have made it for socials and large gatherings increasing amounts of coarse, I have even served this at my Thanksgiving and Christmas holiday table as an extra dish along with a turkey or ham --- to save time I always mix up the filling a day ahead and refrigerate this will also give the flavors a chance to blend together, or you may prepare up to step #9 cover and refrigerate for up to 24 hours --- don't forget to cook the spinach first before using for this recipe

Great recipe!I have made this three times. The first time, I followed it as listed. I never made manicotti before, and didn't realize how much work goes into stuffing the things. The second time, I used only half as much spinch, but I used fresh also. Seemed to me to be the perfect amount. The third time, I was lazy and used jumbo shells, and of course its the filling that makes this dish. Filling the shells was alot easier than the manicotti.Awesome recipe.EDIT: I have now made these over 50 times. I still swear by this recipe. The only tweaks are the ones listed above, and occasionally I add 1/2 pound of hot or mild Italian Sausage. Browning them, and draining the fat. Then I let it cool to room temp., before adding to the mixture.
Set oven to 350 degrees F.
Butter a 13 x 9-inch baking dish.
In a skillet, saute onion (if using) in oil for about 4 minutes or until softened (adding in the garlic the last 2 minutes).
In a mixing bowl combine the ricotta cheese, 1-1/2 cup mozza cheese, cream cheese, 6 tablespoons Parmesan cheese, Italian seasoning; beat with a wooden spoon until smooth and well combined.
Season with white salt or seasoned salt and black pepper to taste.
Stir in onion mixture and spinach; mix well to combine.
Spoon into cooked and cooled manicotti shells.
Pour half of the pasta sauce into the prepared baking dish.
Arrange shells over sauce (at this point you may cover and refrigerate for up to 24 hours, or continue with the recipe as follows).
Top with the remaining sauce, use a spoon to spread the sauce over the shells (the sauce does not have to cover the shells completely).
Sprinkle about 1/4 cup Parmesan cheese (or to taste) over the sauce.
Cover and bake for 25 minutes.
Uncover and top with mozzeralla cheese (any amount desired).
Bake 5 mins longer, or until cheese is melted.
Let stand 10 mins before serving.
Note; If desired the spinach can be omitted completely.