Ck2plz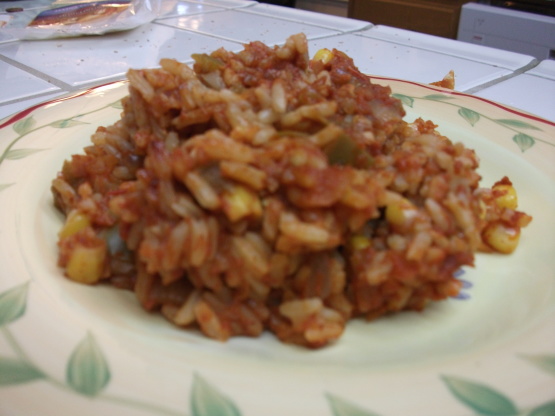 Although this only uses one cup of rice this will make enough for four very hearty servings or six smaller, you may double if desired but I suggest to make in a saucepan --- make this as spicy as desired by adjusting the chili flakes and jalapeño pepper --- half a package of taco seasoning mix may be used in place of the cumin and chili powder, converted rice only for this :)

I followed the recipe . . used long grain rice (probably should have used the parboil), didn't add jalapeno, and used chicken stock . .

As for the pace, use 1/2 hot and 1/2 medium.

It was nice spicy flavor, and enjoyed by all.
Heat olive oil in a large skillet over medium heat; add in cumin, paprika, chili powder, paprika, chili flakes, onions, green bell pepper and jalapeño pepper (if using) cook stirring for about 4 minutes or until onions are translucent).
Add in garlic; cook stirring 2 minutes.
Add in rice and stir for 1 minute.
Add in tomato sauce, picante sauce, water or broth, seasoned salt, black pepper and corn or peas; mix with a spoon and bring to a boil over medium heat.
Reduce heat to low, cover with a tight-fitting lid and simmer for about 30-40 minutes or until the rice is tender, stirring occasionally.
Sprinkle the top with chopped green onions if desired.