Kittencal's Scotch Shortbread Bars
heidi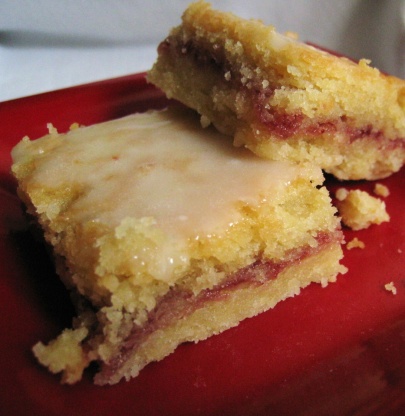 These shortbread bars is one of my all-time favorite recipes... I find that baking shortbread in a baking pan somehow produces a flakier, richer cookie...I'm sure you will enjoy these as much as we do.

Top Review by heidi
Delicious and buttery shortbread! I added 1.5 tsp vanilla and baked 24 minutes in an 8x8 dark metal pan. I let sit in the pan for about 10 minutes before I flipped it onto a rack to cool. I used this recipe to make shortbread jam bars.. I cut in half and spread warm jam to make a "sandwich." I then topped with a sugar cookie glaze. Indulgent!
Set oven to 350 degrees F.
Prepare an ungreased 11 x 7-inch baking pan.
In a mixing bowl cream butter and sugar well.
Combine flour, baking powder and salt; gradually add to creamed mixture.
Spread into a prepared ungreased baking pan.
Prick well several times with a fork.
Bake for 20-22 minutes, or until the edges just begin to brown.
Remove from oven the dust with more icing sugar.
Cool on wire rack.
Cut into bars.