Kittencal's Raspberry Sherbet Without a Ice Cream Machine
Lainey39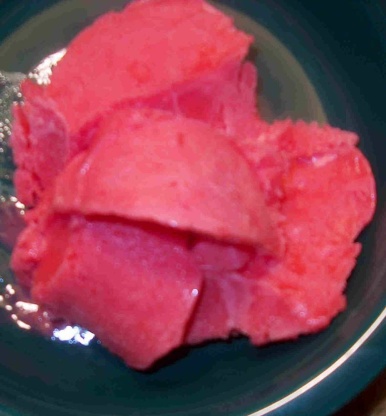 You will *LOVE* this and no ice cream machine needed to make this delicious sherbet, this is just as good as the store bought! lime or orange works well also, I have tryed strawberry also but it is just not as good, haven't tryed it yet but you might want to add in some pureed fruit to the mixture --- This is habit forming once you start you won't be able to stop, I can eat the whole pan myself, it is *that* delicious --- you can make different flavored layers just make certain that the first layer is completely frozen before topping with the next layer, for layers you will need a 13 x 9-inch pan :)

Top Review by RaeMay
Very good! I tried strawberry for a girls' night, added some frozen strawberries to the mix and it was a hit. Brought the leftovers to my mom and she said, "Tastes like Jell-O." Basically meaning she didn't get the sherbet feeling out of it but she still enjoyed it. Lime is freezing right now :)
In a heat-proof bowl dissolve the Jello gelatin powder with boiling water and 3/4 cup sugar until NO granules remain (this might take a few minutes).
Add in whipping cream or evaporated milk or table cream and 2 cups milk; sir until completely dissolved.
Add in more sugar if desired to taste and stir until combined.
Pour into an 8 or 9-inch square pan.
Freeze until solid (about 5 hours.
Let stand 8-10 minutes before serving.
Store tightly covered with foil or remove to a plastic container and cover.
Delicious!