Kittencal's Potato Salad With Eggs
Parsley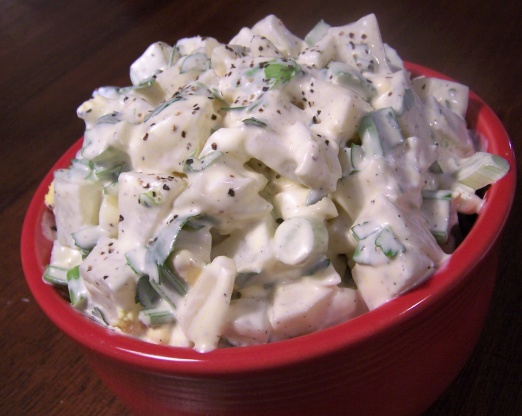 I like to call this a great starter recipe as you can add in other things such as bacon or cooked ham, even chopped gherkin pickles, chopped parsley, the choice is yours! --- for best flavor use mayonnaise and salad dressing ---there is 4 hours chilling time all together for this recipe, so plan ahead. --- you will also find a slightly different version of my recipe here http://kittencalskitchen.com/2009/04/05/kittens-potato-salad-with-eggs-and-ham/

Another winner Kittencal! Tweaked this ever so slightly..used golden Italian salad dressing on the warm potatoes instead of wine vinegar. Also used light mayo and Balkan yogurt instead of sour cream, which makes it a little lighter, but still flavorful.. I feel I must say something about "peeling" the red potatoes as was stated in the original recipe..totally unnecessary, and omits nutrients. Otherwise a great baseline!
Cook the potatoes in boiling salted water until just fork-tender.
Lift out with a slotted spoon into a large bowl.
Sprinkle with white wine vinegar, then cool to room temperature; cover refrigerate for minimum of 2 hours.
Meanwhile mix together the mayo, sour cream, Dijon mustard, salt, pepper and garlic powder.
Finely mince up the egg yolks with a fork and then add to the mayo mixture, whisk until combined (there will be some small pieces of yolk, not to worry!).
After the 2 hours of chilling time, cut the potatoes into desired size cubes, then mix in the green onions, celery, parsley and chopped egg whites (add in any other ingredients you desire also).
Pour over the dressing and mix well to combine.
Season with more salt and pepper.
Cover and chill for a minimum of 2 hours before serving.