Kittencal's Perfect Pan-Fried Steak
petlover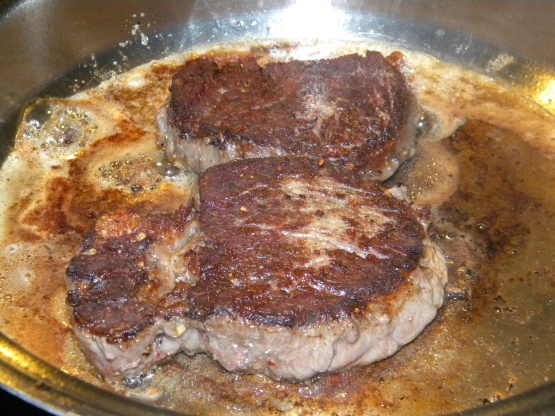 For perfect results plan ahead the steaks must be brought down to almost room temperature which might take several hours, this recipe works perfectly for beef tenderloin steaks of coarse you may use it for any cut of beef, cooking times stated is for an 8-ounce steak at 1-1/2 inch thick --- I use Montreal Steak Spice for this but freshly ground coarse black pepper will work fine, and you may adjust the black pepper to taste, since salt will draw out the juices from the beef do not salt until after cooking --- since not all cuts of meat are the same, for this method a more tender cut of steak is suggested to use such a strip loin etc.

Another amazing recipe from Kittencal. Cooked for company and everyone raved. Thank you!
2

(8 ounce) boneless beef steaks (1-1/2-inch thick)

3

tablespoons vegetable oil

2

teaspoons montreal steak spice (or use freshly ground coarse black pepper)

2

tablespoons butter
salt (to taste, to be added after cooking only) (optional)
In a bowl combine 3 tablespoons oil with 2 teaspoons steak seasoning or ground black pepper.
Rub both steaks with the oil/pepper mixture.
Allow the steaks to sit out to almost room temperature (about 1-1/2 to 2 hours).
Heat a large heavy skillet over medium-high heat.
Quickly sear the meat about 5 seconds on each side; remove from the skillet to a plate.
Add 2 tablespoons butter to the hot skillet allow to sizzle and brown, then return the meat to the skillet and fry 4-5 minutes per side (the outside of the steak should be browned and crisp).
Remove steaks from the skillet and allow to stand for 5 minutes to allow the juice to settle.