Kittencal's Parmesan Orzo
Heirloom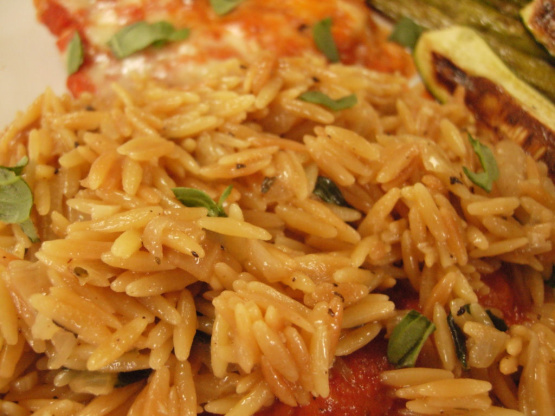 This makes a great side dish with chicken or fish, the dried chili flakes are only optional I like to add in for a little heat you may omit if desired, use a good quality chicken broth for this, make certain to saute the orzo until just lightly browned it really improves the flavor of this dish! ;)

Top Review by sweetp
Great side dish! I added 1/4 cup of toasted pine nuts, but other then that left everything the same. Thanks for another great recipe kittencal!
Melt butter in a medium heavy saucepan over medium heat, add in onion, thyme and red pepper flakes (if using) saute for about 3 minutes.
Add in orzo and cook stirring with a wooden spoon until orzo is slightly browned (about 3-4 minutes).
Add in garlic and cook for 2 minutes.
Slowly add in the chicken broth; bring to a boil, reduce heat to low.
Cover and simmer until the orzo is tender and the liquid is absorbed (about 20 minutes).
Mix in the Parmesan cheese, salt and black pepper.
Transfer to a serving bowl and sprinkle with more Parmesan cheese if desired.