Kittencal's Moist Turkey Burgers for the Grill (Low Fat)
Pam-I-Am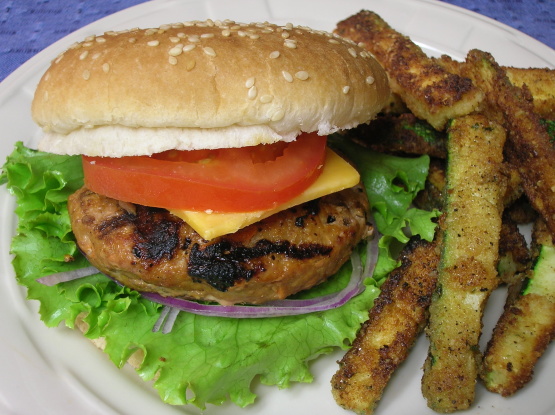 The addition of shredded carrots is the secret ingredient to the most juicy moist turkey burgers so please don't omit them! these are delicious done on the grill I make these quite often and my family loves them and they are low fat too --- they may be broiled or pan-fried but they are much better if prepared on the grill or even an indoor grill would be great! This recipe makes approx 8 turkey burgers, depending on how large you make them, you might want to double or triple the amounts and freeze the patties --- Mrs. Dash seasoning may be replaced for the seasoned salt if you are on a low sodium diet --- plan ahead the patties must chill for 4-24 hours to blend flavors, the longer chilling time the better! --- for the best flavor use seasoned salt not white salt and if you are a garlic-lover then increase to 2 tablespoons, for my garlic-loving family I use about 6 garlic cloves, and my family loves lots of heat so I also add in 2 tablespoons of crushed chili flakes

OMG! Kittencal, you've done it again. My husband said these were the best turkey burgers he's ever eaten. And I didn't even have time to let them rest. I just mixed them up and slapped them on the grill. I can't even imagine what they'd taste like if I let them chill. I used my food processor to mix the onion, garlic, carrots, barbeque sauce and hot sauce. Ended up adding a couple of Tbsps more bread crumbs to make it hang together better. Next time I'll make them ahead and use a previous reviewer's idea of individual wax paper squares to make it easier to transfer them to the grill. Thanks for another great recipe.
2

lbs ground turkey (preferably mixed white and dark meat)
1⁄2 cup finely shredded carrot (DO NOT squeeze out any moisture in the carrots!)

2

green onions, finely chopped (or use 1 small onion)

1

tablespoon finely minced fresh garlic (about 3 cloves, or use 1-2 teaspoons garlic powder)

2

teaspoons seasoning salt (can reduce to 1-1/2 teaspoons)

1

teaspoon black pepper (or to taste)
1⁄2 cup breadcrumbs

2

eggs, slightly beaten
1⁄3-1⁄2 cup hickory-flavor barbecue sauce (can use more you may need to increase the breadcrumbs if increasing the BBQ sauce)
1⁄2-1 teaspoon hot sauce (or to taste)
In a large bowl, mix together the ground turkey with all the ingredients; mix well to combine (if you find the mixture is too moist you can add in a small amount more of bread crumbs).
Shape into patties, then place the patties on a plate and cover with plastic wrap; chill for 4-24 hours to blend flavors (24 hours is even better!).
Place on the barbecue and grill until done (about 12-15 minutes) if made on a outdoor grill.
DELICIOUS!