Kittencal's Moist One-Bowl Dark Chocolate Bundt Cake
Redsie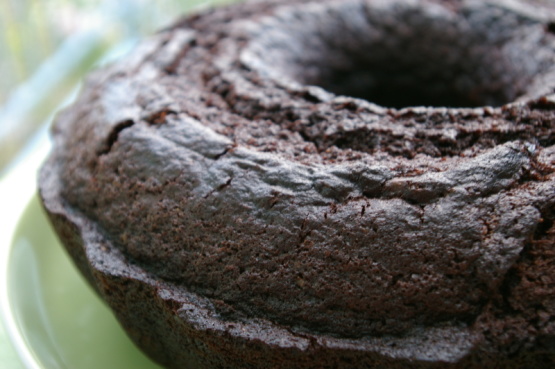 This recipe goes back over 30 years and I still make today, it's the most delicious dependable never-fail moist cake that is so easy to make, just dump everything into one large bowl, there is no need to beat eggs first, if like a slight orange/chocolate flavor use orange juice or you may use half juice and water you could use all water if desired ---my family calls this the Oreo cake as it tastes similar to the chocolate wafer part of an Oreo cookie, I sometimes slice in half and spread a vanilla frosting in the middle --- please make certain to generously grease and flour your pan, I always use my Pan Release, Professional Pan Coating (Better Than Pam Spray!) for this --- this is one cake you will make over and over again and it's perfect to take to a potluck! --- for glaze see my Chocolate Glaze for Cakes (That Hardens)

This really is one of those dump-it-all-in-at-the-same-time one-bowl cake wonders that is impossible to goof up. The colour is beautifully rich and deep with a flavour to match. I use 1/2 cup strong coffee as part of the water, and omit the juice and orange flavouring just because of a citrus allergy. I like the Hershey's premium extra special cocoa.
One time I tried using 1/2 cup less oil as an experiment and the cake was quite dry for my taste, so the oil in the cake really is necessary for its moist texture. Kittencal knows best.
Being such a reliable, super quick and easy bundt cake, it is one of my go-to's for funerals, and club events. It is mind bogglingly yummy topped with Kittencal's chocolate glaze!
I always bake mine in a much used, well greased and floured heavy-weight dark cast Nordic Ware bundt pan and reduce the temperature by 20 degrees (which happens to work best in my oven). Cooled on the rack for 10 minutes, and it falls out effortlessly every time.
One little trick I use is to 'drop' the batter filled pan on the countertop once or twice (only a distance of 1 inch!) to get rid of the largest bubbles just before popping it in the oven. With my really fancy patterned Nordic Ware pans, I find that this particularly helps with the detail. Sometimes some of those highly detailed pans do require a little coaxing around the edges with the fingertips to 'break the suction' and get them out in one piece and is true whatever recipe you use.
This cake is a masterpiece. Thank you again to our wonderful and always reliable Kittencal!
Set oven to 350 degrees F.
Set rack to second-lowest position.
Generously grease and flour a 12-cup bundt pan (I use my Pan Release for this, make certain to well-grease your pan!).
In an extra large mixing bowl, combine all the cake ingredients; mix on medium speed of an electric mixer for about 3 minutes or until very well combined.
Bake for about 50-60 minutes or until the cake tests done (if using the streusal the cake will take slightly longer to bake).
Cool in pan for about 15-20 minutes before removing.
Frost or glaze if desired when completely cooled.
STREUSAL; this is only optional and may be sprinkled in the middle of the batter, mix together 1/2 cup finely chopped walnuts with 1/4 cup shredded coconut, 1/3 cup brown sugar, 1-1/2 teaspoons cinnamon and 2 tablespoons unsweetened cocoa powder.