Kittencal's Method for Oven Cooked Bacon
Bobtail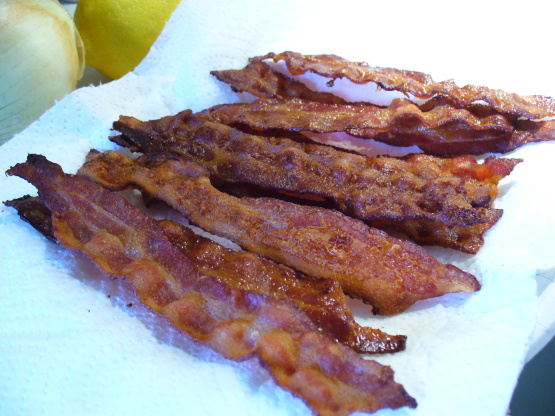 When I make this I make lots and then freeze in bags using my Food Saver storage system, this method saves time and not to mention the greasy clean up that comes with frying, I pour the grease into a Pyrex measuring cup then save and refrigerate overnight or until hard then scoop out a few tablespoons at a time, freeze on plates then I place in freezer bags to use in recipes to add flavor, you may save or discard the grease --- since RZ system would not accept one ingredient I have listed 1-1/2 pounds bacon separately, you may of course use as much as you like.

No more grease all over the stove & bacon cooks up nice & flat. While on vacation, I even cooked a batch the night before so we could enjoy it for a quick early breakfast. I stopped spraying the foil & the bacon still lifts up easily. I found draining the grease before putting a new layer of bacon on the tray, reduces burning & mess in the oven. I strain the grease then pour it into an ice cube tray & once frozen, transfer it to a freezer bag. I freeze bacon to crumble into salads, roasted veggies, BLT sandwiches, etc... My son-in-law thought it wouldn't taste the same but I served it to him for New Year's brunch & he couldn't tell it was previously frozen. I reheat it on a plate in the microwave with paper towel over top. Now we have bacon whenever we want. Many many thanks Kittencal!
Preheat oven to 400 degrees F (regular or convection oven, if you are using a regular oven set rack to lowest position).
For easy clean up line your pan with foil, then spray generously with cooking spray.
Arrange the bacon slices in 1 layer in the pan.
Cook the slices until evenly browned (about 17-22) minutes turning the bacon halfway through cooking time.
Transfer to paper towels or a rack.
Use immediately or freeze to use later.
Heat in microwave to crisp up before serving.