Kittencal's Low-Fat Oven-Baked Zucchini Sticks
Susang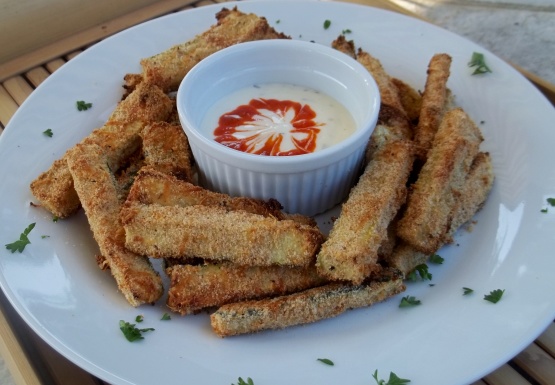 A recipe that goes back years and a great way to use up all that zucchini left over from summers crop, you may adjust all seasonings to taste --- if you are a garlic lover then you may increase to 1 teaspoon, I also add in a pinch of cayenne pepper for a little heat --- use only dry breadcrumbs for this --- if your seasoned breadcrumbs already have salt added then omit the 1/4 teaspoon salt --- as one reviewer mentioned that she dipped the sticks into Ranch dressing so you might want to give that a try using a low fat dressing or dip :)

Top Review by Geema
I was totally shocked at how delicious these crispy sticks tasted. Zucchini is not on my list of favorite vegetables and I buy it infrequently. But, I had some in the refrig and decided to try this recipe in desperation. My DH and I finished our portions and were disappointed that there wasn't more, so my advice is to make twice as much as you think you need. There wasn't a temperature setting for the oven written in the instructions, so I set mine for 375 hoping for the best. I got a phone call in the middle of the baking time and didn't turn the zucchini halfway through the baking time, and happily they were still perfectly crisp. And I used some panko dry bread crumbs which really helped make the little sticks crispy. Cornflake crumbs would be great too. Thanks for give me a recipe our family will enjoy for years to come.
In a bowl combine bread crumbs, Parmesan cheese, garlic powder, salt and pepper; mix well.
In another bowl, beat egg/s lightly.
Dip zucchini sticks into eggs, then into breadcrumb mixture.
Transfer to a greased baking sheet that has been coated with nonstick spray.
Bake at 425 degrees F for about 20-25 minutes, or until lightly browned (you may turn the sticks over once halfway through baking time if desired).