Kittencal's Lemon Shrimp Scampi With Angel Hair Pasta
Bev I Am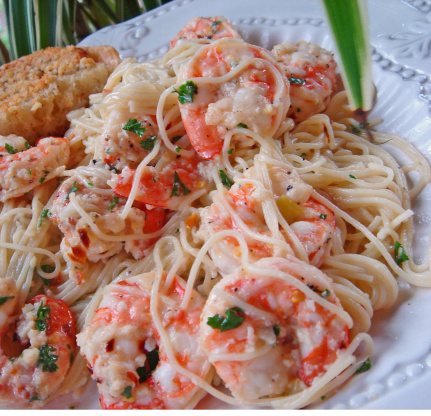 This is a restaurant-quality dish that can easily be prepared at home, you may adjust the amount of fresh garlic and hot sauce may be replaced for the dried chili flakes, make certain that you pat the shrimp dry with paper towels to remove all the moisture or it will create a thin sauce. --- this dish is *very* good!

Who needs to go to Olive Garden now??? I LOVED this dish! It was just as good as something I would order out, I will make this again for sure! I cooked as directed, but I added some orange bell pepper along with the garlic (also used more garlic) and less crushed red peppers as my kids wont eat spicy. While my shrimp was cooking I steamed zucchini, snow peas, and some asparagus spears and added that to the cooked shrimp mix and then tossed over angel hair pasta. So it was a whole meal in one! I also added just a bit of cornstarch to the sauce before adding to the noodles because it was very thin. This might have been due to me doubling the recipe, I have 6 to feed! Very very good, and I might try again, with chicken, so its a bit cheaper! Thank you for a fantastic recipe! Edited to say I bet my sauce was thin because I did not pat dry my shrimp. Re reading over the recipe (and looking at my deliscious picture) I noticed it said to do this, I missed it before making. OOOOOPS!
Melt butter in a large skillet over medium heat.
Add in green onions, garlic, lemon zest, lemon juice and chili flakes; cook for about 2 minutes, stirring constantly.
Reduce the heat to medium and add in the shrimp; cook stirring for about 5 minutes or until the shrimp turns pink.
Season with salt and lots of black pepper and stir in parsley.
Toss with the cooked angel hair pasta.
Sprinkle with parmesan cheese.
Delicious!