Kittencal's Lemon Cream Cheese Pie
icynorth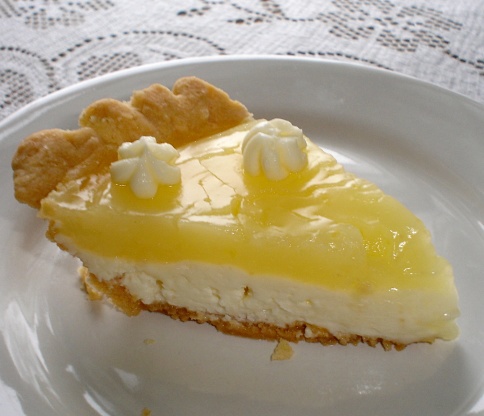 So I've been gleaning from this site for several years now, and have never posted a review before. BUT, this pie was SO good, I'm "coming out of lurkdom" to give it yet another 5-star rating. Out of 11 people in my family, it gets 11 "thumbs-up". I topped it with sweetened whipped cream (cause I was in a sweets-making mood last night so had it made up for another recipe), and we used a different pie crust recipe just because that's the one my son is used to using. Our pies came out darker even though we did use the food coloring, because I only use turbinado sugar and it is naturally brown. I've noted our copy of the recipe so we won't waste food coloring again. I also didn't have any cornstarch, so we used flour instead (the conversion for that is 2x as much flour as cornstarch called for); this worked just fine. Since we used the whipped cream on top instead of the "reserved" cream cheese mixture, my daughter used some of that on her bagel for breakfast this morning and the combo is absolutely amazing! We will definitely be using this recipe again-- time after time! Thanks so much, Kitten (by the way, yours is one of my 'trusted names" when I'm recipe-hunting ;) ).
In a saucepan, combine sugar, cornstarch and pinch of salt.
Stir in water, lemon juice, lemon rind and yellow food colouring (if using) bring to a boil over medium-high heat; cook, and stir for 2 minutes, or until smooth and thickened.
Remove from heat; stir in butter; cool to room temperature for about 1 hour.
Meanwhile, in a mixing bowl, beat the cream cheese and the powdered sugar until smooth.
Fold in the whipped cream and the 1 Tbsp lemon juice.
Remove 1/2 cup of the whipped cream/lemon mixture for the garnish.
Spread the remaining cream cheese mixture into the baked pastry shell.
Top with the cooled lemon filling.
Chill in the fridge for a minimum of 8 hours or overnight.
When ready to serve, scoop the reserved 1/2 cup cream cheese mixture into a pastry bag with a star tip.
Pipe stars onto the pie, or garnish with the reserved cream cheese mixture or as desired.
Refrigerate until ready to serve-- delicious!