Kittencal's Jalapeño Cheddar Cheese Bread
eabeler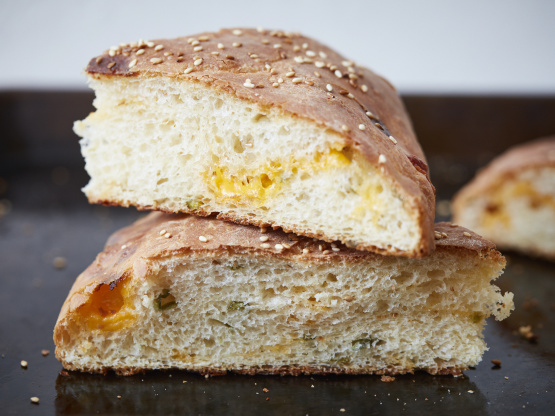 This is a bakery-quality bread that is on regular rotation at my house and has been so for many years it is one of my family's favorite breads, because of the addition of egg the rising time will be slightly longer than usual --- there is very little sugar and no butter or shortening in this bread which gives this bread a spongy-like texture, perfect for dipping! If you are a jalapeño lover then by all means add in as much jalapeño peppers as you desire, this bread does not require forming into a loaf shape just shape into two large balls which makes it an easy recipe for a beginner baker :)

Delicious! I used three jalapenos that I roasted and peeled, rather than using them raw. I also shredded half the cheese and and cubed the rest. That way the bread flavor was very cheesy, and there were molten pieces throughout. Other than that, I followed it exactly. Just a little spicy and a lot delicious. Texture was perfect.
1 1⁄2 tablespoons dry yeast

1

teaspoon sugar

1

cup warm water

4

cups flour (more as needed)

2

large jalapeno peppers, coarsely chopped, and seeds removed (can use more jalapeno if desired)
1 3⁄4 teaspoons salt

1

tablespoon sugar

1

egg (room temperature, let egg sit in hot water for about 5-7 minutes to warm)

1

teaspoon hot pepper sauce (optional)
3⁄4 cup milk, warmed
2 1⁄2 cups cheddar cheese (chopped into about 1/2-inch cubes or a little larger if desired)
Prepare a heavy-duty stand mixer with a kneader blade.
Proof yeast in water with 1 teaspoon sugar for 8-10 minutes, or until foamy.
Heat milk in the microwave for about 50 seconds on HIGH.
In the stainless steel bowl, add in 4 cups flour, chopped jalepenos, salt, sugar, egg, hot pepper sauce (if using) and warmed milk.
After the yeast has proofed, add to the bowl and start kneading, adding in more flour as needed to create a soft smooth semi-sticky dough, keep kneading for about 8-10 minutes.
Towards the end of the kneading add in the cubed cheddar cheese, and mix until combined (the dough can be removed from the bowl and you can add/mix in the cheese by hand if dresired).
After the kneading, let the dough sit out on a board or counter top to rest, covered with a clean tea towel for 8-10 minutes.
Gather up dough and knead gently for 30 seconds.
Then place the dough in a well greased bowl, and let rise until doubled (about 1-1/2 hours or could take a little longer).
Punch down dough and slice into two even pieces.
Shape into two large balls, and place on a cookie/baking sheet that has been sprayed with cooking spray.
Cover with a clean tea towel and rise again for another 1 hour or more until doubled.
Brush tops with an egg white that has been mixed with 1 teaspoon cold water.
Sprinkle on grated Parmesan cheese or sesame seeds.
Bake in a 375 degree oven for about 25-35 minutes or until the crust is a dark golden brown.