Kittencal's Greek Marinated Tomato, Olive and Feta Salad
Bergy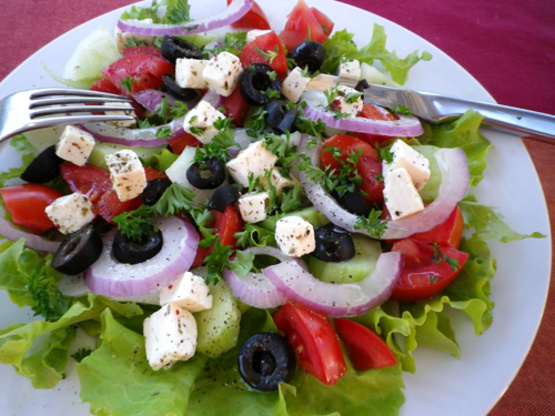 If you love Greek salads you will love this, it's an absolute must made with garden ripe tomatoes! I use the dressing from my Kittencal's Famous Greek Salad but you may use your own favorite dressing, the cucumber is only optional I like to add some in, plan ahead this salad must be chilled at least 3 hours before serving or up to 6 hours. Serve this salad with crusty bread on the side to dip into the juice, you may also serve the tomatoes with juice on a bed of lettuce.

Wonderful. Sorry I did not wait 3 hours as I told DD (toddler) we were going to eat salad. I'm sure waiting longer would make what is already 5 stars better. I only used a lemon and olive oil dressing as we don't use red wine vinegar for religious reasons. I used grape tomatoes, goats milk feta of Greek origin and the rest. I would make this again for sure. Made for
The Big Fat Greek Tag Game! For the WHOLE of September 2010 in KK's forum.
In a large glass bowl stir together the dressing with parsley.
Add in feta pieces and all remaining ingredients (except black pepper, salt and bread) toss to combine and season with black pepper------ (don't be tempted to add in more than the stated amount of dressing as the tomatoes will release more juice when chilled, you just might find your salad swimming in too much liquid!).
Cover and refrigerate for a minimum of 3 hours or up to 6 hours.
Serve with crust bread.