Kittencal's Greek Lemony Rice With Feta
Shawn C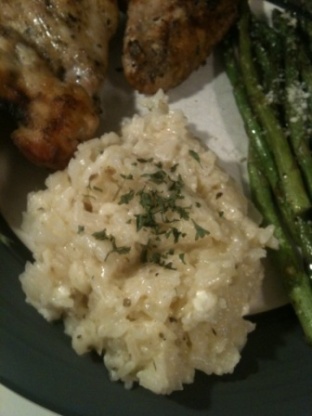 Make this only if you are a lover of Greek food, this is a full flavored rice with intense flavor and not for those with a plain palette! --- since not everyone has a taste for olives I have left them as optional, I most always add them in -- after making this a few times you will most likely want to adjust some of the ingredients to suit your taste, or you may not, the amounts listed are close to what I use when I make this rice --- this is very good!

This was delicious & intensely flavored as stated. First time I made exactly as stated, but the second time around I used small garlic cloves, 1/4 teas. black pepper, and a little less lemon juice. This is the perfect amount of heat & flavor for my taste.
I love to toss in some sauteed spinach at the end.
Thanks Kittencal:)
In a saucepan heat olive oil over medium-high heat.
Add in onion, oregano, chopped garlic and black pepper; cook stirring constantly for about 3 minutes.
Add in the rice and stir using a wooden spoon for 3 minutes.
Slowly add in the broth and lemon juice; bring to a boil.
Reduce heat cover and simmer until the rice is tender (about 20 minutes).
Remove from heat and stir in the feta cheese (and kalamata olives if using).
Season with salt and more black pepper if desired.
Transfer to plate and drizzle the top with more lemon juice if desired.