Kittencal's Fried Cabbage With Bacon
Prep 10 mins
Cook 25 mins
This makes a wonderful side dish to pork or beef, you may omit the chili flakes if desired or adjust amount to suit taste
4 slices bacon, chopped
1 medium onion, chopped
1 -2 tablespoon fresh minced garlic
1⁄4 teaspoon crushed red pepper flakes (or to taste)
6 cups cabbage, cut into thin wedges (1 small head cabbage)
3 -4 tablespoons chicken broth (or use water)
2 teaspoons brown sugar (or use white sugar, or to taste)
seasoned salt & freshly ground black pepper (to taste, or use white salt)
Directions
In a large skillet over medium heat cook the chopped bacon until crisp and browned; remove to a bowl or plate and set aside (do not drain the bacon fat).
Add in onion; cook stirring until softened (about 4-5 minutes, adding in the garlic and chili flakes the last 2 minutes).
Add in cabbage and broth or water and sugar; cook stirring until the cabbage wilts (about 12-15 minutes) season with salt and pepper towards the end of cooking.
Stir in the cooked bacon.
Reviews
Most Helpful
Just one more fantastic recipe from Kittencal! I didn't have bacon so used some ham chips and butter instead. Had to leave out the pepper flakes cuz DH isn't crazy about them. Used water and brown sugar, but not as much sugar as it called for. Oh My Goodness - this is by far, the best cabbage I have ever cooked! Have another head of cabbage, going to try Kittencal's sausage n cabbage recipe later this week. Yum Carol - you out do yourself every time! Thanks!

Update 10/7/12 - cool fall day perfect for this recipe again! Used ham chips again but did have some bacon grease. Added some slice up polish sausage while onions were cooking, then removed them and added back just as cabbage was finishing up. OMGoodness - hubby can't get enough! Thanks Carol!!!

I feel the need to apologize for taking the credit every time I make something you have created. But LOL I love the response I get from every thing I have tried so far. I really am glad you have so many recipes here, and mean to try many of them. My husband is used to boiled or steamed cabbage, or coleslaw, and found this to be a wonderful alternative from the boring. So, thank you once again for helping me to become a superstar in my kitchen. Annie A. P.S. He does know I am always looking here for deliciousness, and Ive found a very good place to search. Thank you Kitten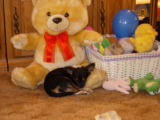 I so admire your cooking skills! I just made this for the first time. Just enough bacon to give it flavor but not be overpowering. And I'll tell you what - the brown sugar makes it!<br/><br/>I almost didn't add the sugar because I was afraid that it would come out sweet. The sugar actually enhances everything!<br/><br/>Thank you Kittencal!