Kittencal's Freezer Baked Ziti (Oamc)
This recipe goes back a long time, it makes two 12-1/2 x 8-inch disposable pans, I use my Kittencal's Italian Tomato Pasta Sauce and Parmesan Meatballs for this but you may use your favorite homemade sauce, you will need about 8 cups of pasta sauce or a little more if desired, chili flakes is only optional I like to add them in for some heat, you may adjust the amount to suit your taste or omit --- make certain to leave the frozen pan in the refrigerator overnight to thaw slightly before baking, and you will need about 2 cups of mozzarella cheese for the top after baking, this makes the perfect potluck meal and you also get to enjoy one pan :)
Directions
In a large pot cook the pasta in boiling salted water until JUST al dente (leave the pasta still firm, do not overcook) drain but do NOT rinse.
Transfer to a large bowl and mix in 2 tablespoons oil to prevent the pasta from sticking together; set adise.
In a pot or Dutch oven cook the ground or sausage meat with chili flakes, if using and onion until beef is lightly browned; drain fat.
Add in the garlic and bell pepper; cook stirring about 10 minutes.
Season with seasoned salt or white salt and ground black pepper.
Stir in the pasta sauce and reduce heat to low; simmer stirring for about 25-30 minutes.
Mix in 2 cups of mozzarella cheese and the cooked ziti pasta.
Divide the mixture between two greased 12-1/2 x 8-inch disposable foil pans.
Sprinkle about 3/4 cup or to taste of Parmesan cheese over each top of pan (do not bake).
Cool completely then cover with heavy foil, freeze until ready to use or bake one right away!.
Thaw in the refrigerator overnight.
TO BAKE; set oven to 350 degrees F.
Bake uncovered for about 45-50 minutes or until hot and bubbly.
Remove from oven and sprinkle about 2 cups mozzarella cheese on top, then return to oven for 5 minutes to melt the cheese.
Most Helpful
This recipe made three eight inch square casseroles for me. I used sausage. When cooking I covered the pan lightly with foil for 40 minutes, uncovered and sprinkled with cheese, cooked another 10 minutes. Froze great, tasted great, someone even 'stole' one out of my freezer! Thanks for an excellent OAMC recipe.
Love this recipe! I halved it this time but will appreciate doubling it for OAMC in the future. I did not add any extra mozzarella to the top because my DH doesn't like cheese if it's obvious. I did include it in the mixture, though. ;-) I also omitted the gr. pepper due to famiy preference. I did opt for the crushed red pepper and am glad I did. It adds a nice little kick - not too much. Delicious meal and a great OAMC choice!! Thank you!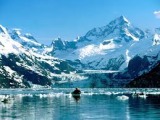 Loved this recipe. Our son gave us a pound of antelope italian sausage and I didn't know how I was going to use it. It worked great in this recipe. I used half sausage and half gr. beef, 2 jars of Prego and a can of petite diced tomatoes, left out the green pepper (doesn't agree with me), was generous with the garlic and covered it for the first 25 minutes. The family thought it was wonderful and want to make sure that I don't lose the recipe. Thanks for posting!