Kittencal's Fluffy Omelet
Rita1652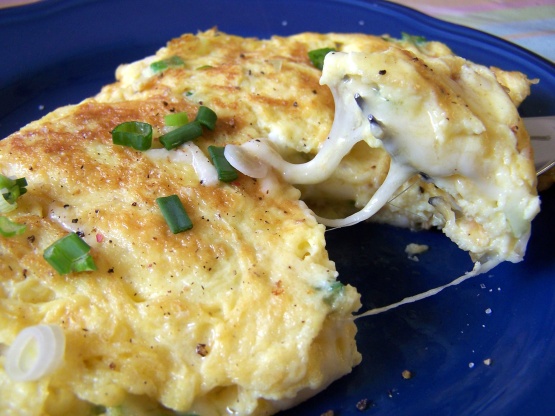 Of course you can double this and make it in a large skillet! You can use any favorite cheese you desire, cheddar is good also, I prefer Monterey Jack for omelets! The trick to a fluffy omelet is the baking powder, so do not omit and don't overcook the eggs! --- also see my Kittencal's Fluffiest Scrambled Eggs

Top Review by Kohtzy
baking powder...who would have thought?! We used this recipe adding in green and red peppers, green onions, cilantro, mushrooms and cheddar cheese. Yumm!!! Will use the baking powder and whipping cream in all of our omelets from now on!
3 -4

large eggs
1⁄8 teaspoon baking powder (this will create a fluffy omelet)

2

tablespoons whipping cream (unwhipped)
salt and pepper

2

tablespoons butter (can use more or less!)
1⁄4 cup monterey jack cheese, shredded (can use more)

1

green onion, finely chopped (optional)
In a small bowl whisk together eggs, baking powder, cream, green onions, salt and pepper until frothy.
Heat an 8-inch skillet over medium heat until your hands feel warm when held about 2-inches above the surface; add in butter and swirl to coat the bottom of the pan evenly.
Pour the whisked eggs into the skillet; let set slightly.
Using a heat-proof spatula, push eggs from edge towards the center; tilt pan to let egg fill the spaces.
Repeat until omelet if JUST set (about 1-2 minutes).
Sprinkle the grated cheese down the center of the omelet.
Using the same spatula, gently fold the omelet over the cheese.
Tilt skillet and slide the filled omelet onto a serving plate (don't worry if you tear the eggs slightly!).