Kittencal's Easy Tuna or Chicken Noodle Casserole
jadique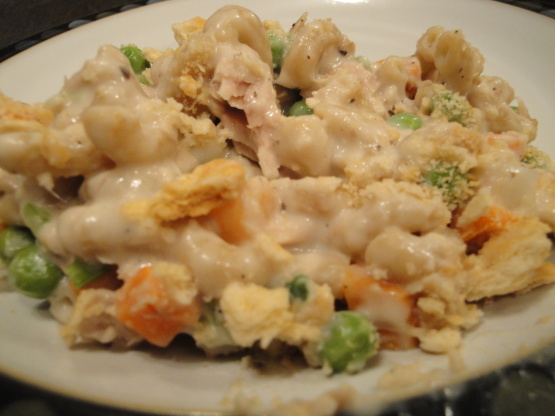 This is a delicious casserole that can be made using either tuna or 1-1/2 cups or more of cooked cubed chicken or even cooked turkey --- for a thinner sauce use 1 cup of milk or half and half instead of 3/4 cup, prep time includes boiling the egg noodles, if you are not a garlic-lover then you may omit the garlic powder and to zing the flavor up even more add in 1-1/2 tablespoons of lemon juice

This was very good. I did not add the Parmesan cheese, pimientos, or green peppers (everything I hate) and it was still very good. I used left over chicken. After simmering the sauce for 15 min. I should have known better than to put it in the oven for another 25 min. By simmering it, it thicken up pretty good and then by baking it, it got extremely dry. Still good mind you but for leftovers I will add more milk. Just adding the hot noodles after simmering would be just right for eating or else not simmering sauce just put in oven for 30 min. I will make again but will adjust the cooking time.
6

ounces egg noodles

2

tablespoons butter

1

(10 3/4 ounce) can condensed cream of mushroom soup, undiluted
1⁄2-1 teaspoon garlic powder (or to taste, I use 1 teaspoon)

3 -4

tablespoons grated parmesan cheese (optional)
3⁄4 cup milk (or can use half-and-half cream)
1⁄2 cup sour cream (can increase to to 3/4 cup)
1⁄4-1⁄2 teaspoon seasoning salt (or to taste, or use white salt)
1⁄2 teaspoon fresh ground black pepper (or to taste)

1

small onion, finely chopped (can use 2 green onions)
1⁄4 cup pimiento, chopped

1

small green bell pepper, finely chopped

1

large celery rib, diced

1

(6 1/2 ounce) can tuna, drained and flaked (can add another 3 ounces for a more meatier casserole if desired, or use cooked chicken or turkey)

12 -15

butter flavored crackers, broken in pieces (such as Ritz Crackers)
Preheat oven to 375 degrees F.
Grease a 2-quart casserole dish.
Cook the egg noodles in boiling salted water; drain then toss with 2 tablespoons butter.
In a large saucepan, mix the undiluted mushroom soup, garlic powder, Parmesan cheese (if using) milk or half and half, sour cream, salt, pepper, chopped onion, pimiento, bell pepper and celery; cook over low heat, stirring frequently for 15 minutes.
Add in the tuna or chicken; mix to combine.
Combine the mixture with the cooked egg noodles.
Transfer to prepared greased baking dish.
Sprinkle top with the broken Ritz crackers.
Bake for about 25 minutes.