Kittencal's Easy Sweet and Sour Pineapple Meatballs
Leslie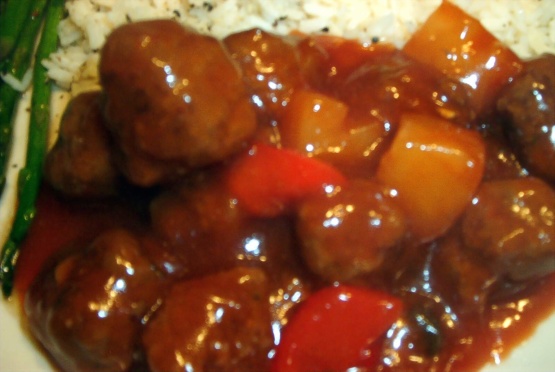 You won't find this recipe anywhere else, it's my own creation! I have even made this recipe using left over cooked beef or cooked cubed chicken breast, it is delicious! This recipe may be cut in half to serve just 4. Also 1 large onion may be added. Prep time includes shaping meatballs and chopping veggies. My Kittencal's Italian Melt-In-Your-Mouth Meatballs works great with this recipe!

My husband & I have decided we love you. I am the queen of thinking I need to fiddle with a recipe. When I make one that you have posted I know not to mess with it, it will be perfect the way it is. I used cooked chicken but changed nothing else (you did say we could use this with chicken so that does not count as a change :) So very good! Makes a ton so I am going to try to freeze some. Thanks again for a terrific recipe.
Prepare the ground beef into meatballs using your favorite recipe for meatballs, and shape into about 1-inch balls.
Heat oil in a skillet, and brown the meatballs until no longer pink (you can also bake them in the oven) set aside.
Drain the 2 cans of pineapple tidbits; set pineapple tidbits aside.
If needed, add water to the juice to measure 2 cups, and place in a large saucepan (if the juice from the cans measures more than 2 cups add in all the juice with no water).
To the juice/water mixture, stir in vinegar, brown sugar and soy sauce, garlic, salad dressing, sweet and sour sauce, salt and pepper; bring to a simmer (adding more brown sugar (or white sugar) to taste if desired.
When the sauce is to desired taste, add in the cooked meatballs and carrots.
Simmer for about 25-30 minutes, or until carrots are crisp-tender.
Stir in green pepper, and reserved pineapple tidbits; cover and simmer for about 10-15 minutes longer, or until green pepper is crisp-tender (do not over cook the peppers!).
This step is only optional if you prefer a thicker sauce, in a small bowl combine cornstarch and water until smooth, and stir into the meatball mixture.
Bring to a boil; cook, stirring for about 2 minutes, or until sauce has thickened.
Serve over rice.