Kittencal's Easy One-Bowl Vanilla Cupcakes
Ashley Cuoco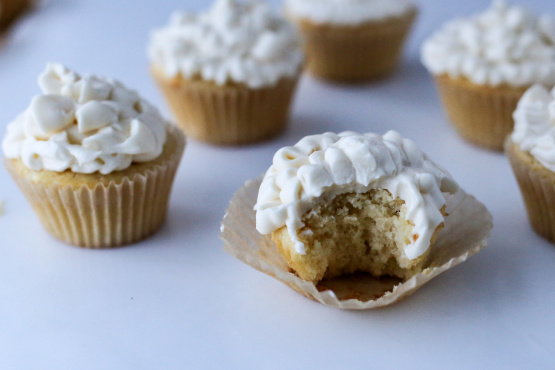 This recipe goes back over 20 years, I like the simplicity of this recipe and for a one bowl cupcake they are pretty darn good, 1-1/2 teaspoons almond extract may be used in place of the vanilla, using butter in place of shortening will alter the texture it is best to only use shortening --- if you don't have paper liners grease the tins generously or see my Pan Release, Professional Pan Coating (Better Than Pam Spray!)

These were weird. I followed the recipe exactly. They had a very cornbread like texture. And to my surprise, even a bit of a cornbread taste! ....like a vanilla cornbread. They still tasted alright, just strange. If someone gave me one, I would probably eat it. However, I do not intend to make them again.
Set oven to 350 degrees F.
In a large bowl, mix together the flour with sugar, baking powder and salt until combined.
Add in the shortening cream or milk, vanilla and eggs; beat on medium speed of an electric mixer scraping the bowl constantly until just blended (the batter will be thick, if desired you may add in a few more tablespoons cream or milk).
Pour into paper-lined regular size muffin tins filling under just three-quarters full.
Bake for 20-22 minutes or until the cupcakes test done (do not overbake as they will be dry).
Immediately remove from pans.
Cool completely before frosting.
*Note* if desired 1-1/2 tsp almond extract may be used instead of vanilla, for a almond flavor.