Kittencal's Easy Mushroom Soup Pork Chops
Debi9400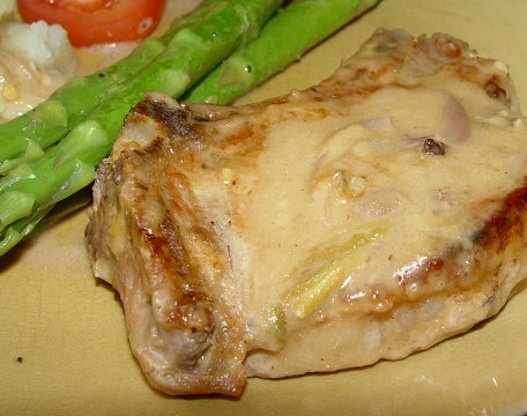 My family *loves* this! I have written the easy method which does not include browning the chops, I would suggest to brown them first it really makes a difference in the taste and also reduces cooking time slightly but it is not necessary, fresh sauteed mushrooms may be replaced for the canned, do not use the thin fast fry chops for this

This is my 2nd time making this recipe - it's very tasty. I have a similiar recipe but wanted to try adding a bit of my own to this one and see what happened. It was good! Still mainly her base recipe (because her's is easier to do and a better recipe) but with a wee bit of my own along with it. So - I browned the chops first which is not in the directions but is in the initial description as a suggestion. In my mind, this is a very important step for flavour and texture. I sprinkled some garlic salt and seasoning salt on them before browning. Into her mixture for the sauce, I added one very finely chopped up jalapeno pepper. This doesn't make it hot at all but is a nice addition to the other flavours in the mix. After the chops were browned and put in the baking dish, I kept the frying pan hot and poured in 1/2 cup dry white wine (Sonoma Ridge Pinot Grigio to be exact but a chardonnay would work nicely too - especially an unwooded one). That loosened up the bits in the pan nicely and added lovely flavour poured into the waiting sauce. **you can't taste the wine in the sauce but it does enhance the other flavours quite nicely. I basically followed the recipe otherwise with one other small change - I didn't have parmesan cheese so used romano. Was good. The sauce was so flavourful. Used it on top of boiled potatoes too. This is a "lick the platter clean" kind of meal. Thank you KittenCal
6

pork chops

2

(609.51 g) can condensed golden mushroom soup, undiluted

59.14

ml grated parmesan cheese

59.14

ml milk (optional, use for a thinner sauce)

1

medium onion, chopped

14.79-29.58

ml fresh minced garlic (or to taste)

283.49

g can sliced mushrooms (or use fresh sauteed in butter before using in this recipe)

2.46

ml black pepper (or to taste)

236.59

ml grated cheddar cheese (optional or to taste)
Set oven to 350 degrees F.
Butter a 13 x 9-inch baking dish.
Place the pork chops in the baking dish in one layer.
In a bowl combine all remaining ingredients except the cheddar cheese, until well blended, then pour over the chops (lifting and turning the chops to coat with the sauce).
Cover and bake for about 45 minutes (cooking time will vary depending on the thickness of your pork chops).
Uncover and bake for another 15 minutes.
At the end of cooking sprinkle with grated cheddar cheese and return to oven for a few minutes to melt the cheese (the cheddar cheese is only optional).