Kittencal's Easy Crock Pot Chuck Roast With Vegetables
lazyme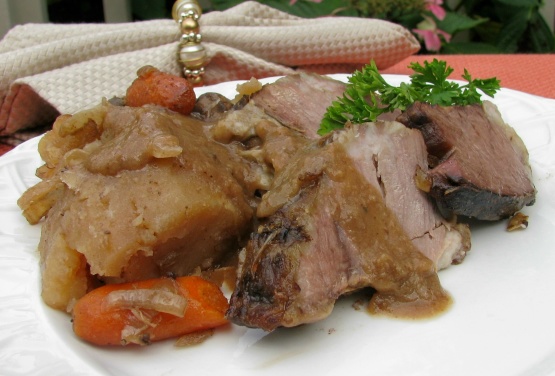 You may also add in 1/3 cup dry red wine, do not add in any extra salt to this --- cooking time is for a 4-pound roast.

Sounds yummy. If you're like me and sensitive to salt, I suggest that you combine the broth with the worcestershire sauce and onion soup mix very carefully. I find it easy to get overwelmed. I mix my own onion soup mix and have discovered that it is mostly dried onion with beef boullion and the beef boullion is what can get you. I would probably add the worcestershire(for flavor and dried onion and maybe seasoning freely until it tastes good and add dried boullion only if the broth seems weak. I have been fooled by seasoning before and if it is too salty, I cannot eat the dish. Beef is wayyy too expensive to waste!
Season the roast with black pepper and garlic powder (do not season with salt).
Heat oil in a skillet or pot over medium-high heat; add in roast and brown on all sides.
Place the onion soup mix, broth and Worcestershire sauce into the slow cooker; mix to combine.
Add in the browned roast and turn the roast a few times to coat in the broth mixture.
Sprinkle the veggies around the roast.
Cover and cook on LOW setting for 8-10 hours.