Kittencal's Easy and Delicious Ranch-Parmesan Chicken
Calee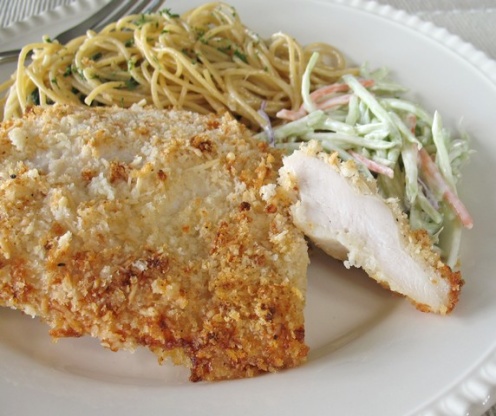 There are plenty versions of this recipe, this is mine and can be on your table in less that an hour, my family loves this chicken! --- the ranch dressing is the secret it holds in all the flavor and moistness while the chicken is baking and also adds flavor, I find that Hidden Valley Ranch dressing works the best but Kraft or any other brand will do, I sometimes top the baked chicken with mozzarella cheese or cheddar, but that is optional --- although I have only made this using breasts I imagine that chicken pieces could be used although you would have to increase the breadcrumb mixture slightly, you can marinate the chicken breast in the ranch dressing for a few hours in the fridge, although you will need more than 1 cup of dressing if you are marinating .... *NOTE* to avoid a soggy bottom crust, place the chicken breasts onto a flat rack on top the baking sheet, also it is important not to bake the chicken in a small baking pan, if you do not have a rack bake on a large baking sheet so any juices in the pan will spread out and not accumulate under the chicken causing a soggy bottom --------------- FOR LOW-FAT OPTION: use low-fat Ranch dressing and omit the melted butter on top or use a healthy butter alternative such as Smart Balance 50/50 blend.

I had chicken breasts to prepare for dinner and made this. I'm not afraid to rate a recipe appropriately. But, from experience Kittencal has always come through with terrific recipe results. I used panko (1 cup) and because I was getting bold with this adventure I added 1/4 cup of canned italian bread crumbs to the dry mixture. In response to those who have a "soggy" problem I would question the bread crumbs you are using. In the past I used bread crumbs I grated from sandwich bread and in doing so my breading never ever produced a crispy crust. Just a note Panko is sold at the grocery store in the canned bread crumb section or in the oriental food section and works GREAT. Kitten, the big test is always my husband. He is picky. And, I have him trained to tell me his honest opinion about my cooking. He raved about this chicken. He just kept saying "man this is good." And, I agree the taste is spectacular. During baking I turned each chicken piece a few times. They got cripsy and very moist and tasty. One more note, I added spray butter and I'm sure it was because of the Panko that still made it end up crispy. Thanks for another 10 star keeper recipe Kitten! Man it was good!
Set oven to 400° degrees (set oven rack to lowest position).
In a shallow bowl mix together the dry breadcrumbs with Parmesan cheese, seasoned salt, black pepper and garlic powder.
Dip the chicken into the ranch dressing to coat both sides (allow any excess to drip off).
Coat in the breadcrumb mixture.
Place in a single layer onto a greased baking sheet or line with non-stick foil (do NOT bake in a smaller baking dish or the bottom of the chicken will be soggy).
Lightly drizzle the melted butter over each breast (for low-fat option omit the butter or use a diet alternative).
If desired you can sprinkle black pepper over the chicken pieces .
Bake uncovered for about 30-35 minutes or until the chicken is cooked).