Kittencal's Crispy Potato and Green Onion Pancakes (Latkes)
Keilty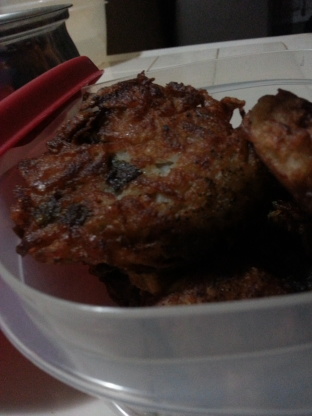 This recipe goes back 30 years or more, my family *loves* these! you can make these ahead of time and then freeze, just cool and place on a large baking sheet to freeze, when frozen stack in a freezer container or pop them into a freezer bag, to reheat and re-crisp, defrost the pancakes then place in a 400 degree oven for about 8 minutes turn over then continue baking until crisp, I strongly suggest to double the recipe these will be half gone before they even make it to the table! I like to add in some cayenne pepper and a bit of garlic powder but that is optional --- yield is only estimated you should get between 20-23 pancakes for this recipe, to make things easier use your processor to grate the potatoes, plan ahead the grated potatoes need to soak for a minimum of 8-24 hours or even up to 2 days to remove some of the starch, the longer soaking time the crispier they will be --- serve with sour cream :)

This is the first time I ever commented on a recipe. I've made this recipe many times. This is absolutely one of my favorites! They are just as good when I take them from the freezer and reheat them. I find letting the potatoes drain for awhile in a colander, then twisting them in a clean towel, helps drain most of the liquid. Kittencal, your recipes rock!
2

lbs red potatoes, peeled

1

large egg, lightly beaten

3

tablespoons flour (or use matzo meal)

2 -4

teaspoons seasoning salt (or to taste, or use white salt to taste)

2

teaspoons black pepper (or to taste)

4 -6

green onions, finely chopped (use as much as you like I use lots!)

3 -4

tablespoons fresh parsley, finely chopped (good to add in!) (optional)
oil (for frying)
Grate the potatoes using a the coarse side if the grater or use a food processor.
Place into a large bowl and cover with cold water.
Allow the grated potatoes to soak for at least a minimum of 8 hours or even up to 2 days.
Using your hands firmly squeeze handfuls of the grated potatoes to remove as much liquid as possible, then place in a large mixing bowl.
Add in egg, flour, seasoned salt and pepper; mix well with a wooden spoon, then add in the green onions and parsley (if using).
Heat oil in a heavy skillet over medium heat.
Place a heaping tablespoonful of the potato mixture into the hot skillet and using a fork, flatten slightly (the edges will be uneven!).
Sprinkle with more salt if desired.
Place only a few pancakes in the pan, careful not to over crowd.
Cook until golden and crisp on both sides adding in more oil if needed).
Repeat with remaining potato mixture.
DELICIOUS!