Kittencal's Creamy Macaroni and Cheese
Dinocu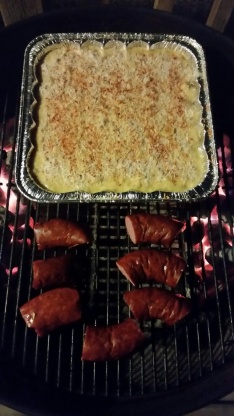 This is very similar to Stouffer's macaroni and cheese, 4 cups will give you a creamy texture you may increase the pasta to 5 cups for a thicker texture --- you could omit the oven baking and just serve this right away and you may also sprinkle about 3/4 cup dry breadcrumbs on top before baking, this is a very creamy mac and cheese if you prefer a less creamier texture then increase the macaroni... you will love this!

Kittencal, I had a hard time choosing between this macaroni and cheese recipe and your easy mac and cheese recipe. I ended up using this recipe and I think this is the BEST macaroni and cheese I have ever had! I doubled the recipe and used half-and-half cream. I used a mix of mild and sharp cheddar cheese and for the first time in my life I bought Velveeta which is must for this delicious recipe! I went through over a hundred top-rated mac and cheese recipes here on Recipezaar and as usual I kept coming back to your recipes. I did top this with crushed Ritz crackers. Many thanks to you for posting this wonderful recipe!!!
Preheat oven to 350 degrees F.
Grease a medium casserole dish.
Cook the pasta in a pot of boiling salted water until al dente (do not overcook the pasta) drain but do not rinse.
Place in a bowl and mix with 2 tablespoons butter to prevent sticking; set aside.
Melt 4 tablespoons (1/4 cup) butter in a large saucepan over medium heat.
Add in minced garlic, onion powder, mustard powder and cayenne pepper; stir with a wooden spoon for about 3-4 minutes.
Add in flour and stir for 1 minute.
Slowly add cream and cook stirring constantly over medium until bubbly and thickened.
Reduce heat and add in both cheeses; mix until melted and smooth.
Season with salt and black pepper to taste.
Add in the cooked pasta and toss to combine.
Transfer to baking dish.
Sprinkle with Parmesan cheese.
Bake 350 degrees F for about 20-25 minutes.