Kittencal's Creamy Broccoli Casserole (Make-Ahead)
lazyme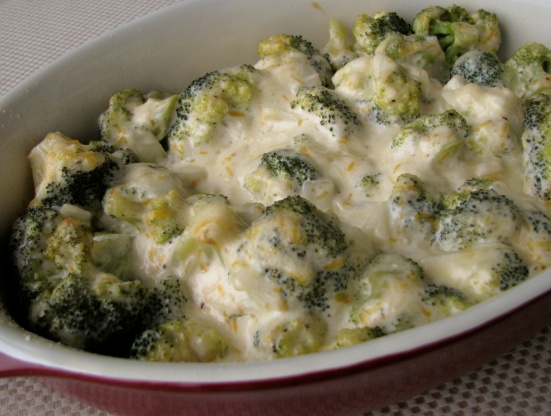 This is a wonderful broccoli recipe which takes only minutes to prepare once your broccoli is steamed, and may be completely made and refrigerated for up to 48 hours in advance until ready to bake. Add in some cooked crumbled bacon also if desired --- the exact measurements do not really matter with this recipe, you can adjust all ingredients to taste, no matter how much you use the casserole will still be delicious. You will love this!

Top Review by YungB
I love easy to do dishes that taste great. I reduced the mayo and the sour cream to 1 cup each and only used 1 1/2 teaspoon of seasoning powder since the parmesan cheese is already salty. I also combined half broccoli and half cauliflower. The next time, I will grate the cheddar cheese. Great recipe. Thank you for sharing.
Set oven to 350 degrees.
Butter a 2-quart casserole dish (or use any size desired to hold the broccoli mixture).
Steam or boil the broccoli florets until JUST fork tender (do not over cook) drain well then pat dry with paper towels.
In a medium bowl combine the mayonnaise with sour cream, melted butter, garlic powder, seasoned salt, black pepper, cheddar cheese cubes and onion; mix well to combine.
Add in the well drained broccoli florets and mix gently with a spatula.
Transfer to prepared baking dish.
Sprinkle with grated parmesan cheese.
Bake uncovered for about 20-25 minutes or until bubbly (the cheddar cubes do not have to be completely melted!).