Kittencal's Chinese Stir Fry Sauce
LadyM46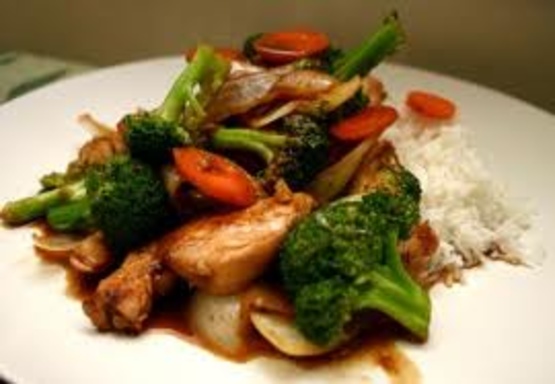 This is a wonderful stir-fry sauce that I recently developed, if you don't use all the sauce up at one time it may be refrigerated tightly sealed in a glass bottle for another time just make certain to shake it up really well before using as the cornstarch settles to the bottom, I have left the chili sauce as optional if you like some heat then add it it, this is a fairly thick sauce, for a thinner sauce you may reduce the amount of cornstarch slightly --- don't omit the sesame oil it is what makes this sauce, and if you don't have any run out and get some you will never cook Asian again without it!

As expected, another Kittencal hit! I purchased stir fry frozen veggies and had chicken tenders and instant brown rice...this sauce made it "Asian" stir fry. I can say when I went looking for a sauce I searched "Kittencal Chinese" and THAT was it...of course I was not disappointed. If you want to cook the best, grab a Kittencal recipe
In a bowl whisk the water with cornstarch until blended and smooth.
Add in all remaining ingredients (starting with 4 tablespoons brown sugar) and whisk until blended (if not using right away whisk again before using as the cornstarch settles to the bottom).
After mixing sample the sauce and adjust/increase the brown sugar, ginger and garlic to taste if needed (please note this sauce will taste sweeter when cooked so do not add in too much more brown sugar).
Add this sauce to hot cooked stir-fried beef, pork or chicken cubes or strips and cook stirring until bubbly and thickened.