Kittencal's Chinese Chicken Balls With Sweet and Sour Sauce
Magasul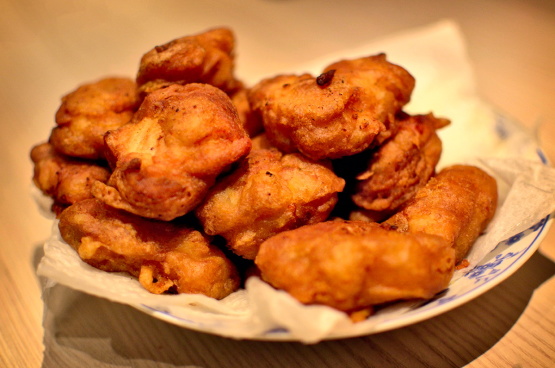 Don't bother ordering Chinese chicken balls make these at home they are just as good if not even better and the sweet and sour sauce is the same as what is served at your Chinese restaurant!-- these are a great weekend snack or can be served as appetizers, if you want some extra flavor to you chicken batter feel free to add in some garlic or onion powder or spices of choice --- this makes a large amount so you may want to reduce the chicken ball batter amount by half (using 4 chicken breasts) --- NOTE: the sauce recipe is one you may have to make a few times before you get the consistancy and sweetness to your liking, 1 cup white sugar and 1/2 cup lightly packed brown will give you a sweet sauce you may reduce the white sugar amount by a few tablespoons

I had to add more water than the recipe called for to make the batter manageable, and it took almost twice as long to make as the recipe says, but that could be because it was my first time. This was absolutely delicious and worth the extra work.

I Cooked three pounds of chicken breasts and there was still batter left, so I mused aloud that I should have halved it. "NOOOO!" yell the kids, as I chase them out of the kitchen with my chopsticks...

P.S., A can of pineapple had just about the right amount of juice for the sauce; the pineapple went into the sauce with a sliced green pepper.
To make the sweet and sour sauce sauce; in a saucepan combine the first 5 ingredients until combined.
In a cup or bowl whisk the cold water or pineapple juice with cornstarch until smooth and well blended, then whisk vigorously into the ketchup mixture; bring to a boil stirring or whisking constantly over medium-high heat until bubbly.
Reduce the heat to medium-low and continue simmering and mixing until thickened (be patient the sauce takes a few minutes to thicken up) remove from heat and allow to sit at room temperature while making the chicken balls or you may cool to room temperature then refrigerate until ready to use (I prefer the sauce at room temperature).
To make the chicken balls: in a large bowl combine flour, cornstarch, baking powder, baking soda, garlic powder; add in water and sesame oil; whisk vigorously until smooth.
Add in chicken pieces; using clean handsand mix until well coated.
Heat oil in a deep-fryer or Dutch oven to 375 degrees.
Carefully dip the battered chicken pieces in hot oil and fry until golden brown (about 3-4 minutes).
Remove to a paper towel.
Sprinkle with seasoning salt immediately after frying if desired.
Serve immediately with sweet and sour sauce.
Delicious!