Kittencal's Chicken Salad
lazyme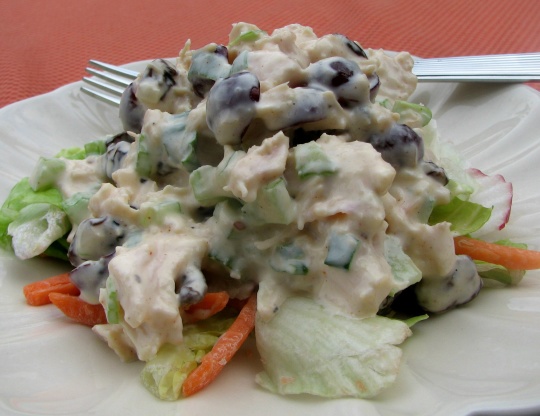 This is wonderful either scooped on a bed of lettuce, stuffed in between a pita or slices of whole wheat bread --- plan ahead the mixture needs to chill for 4 hours before serving, don't even bother tasting before that time, the grapes or chopped apple must be added in just before serving --- *note* see bottom of recipe for poaching chicken breasts, I also sometimes like to add in 1/2 teaspoon curry powder, but that is only optional, recipe may be doubled :)
In a medium bowl toss together chicken with celery, onions and cranberries.
In another bowl mix all dressing ingredients until well blended; add to the chicken mixture and toss to combine.
Cover and chill for a minumum of 4-24 hours.
Just before serving mix in grape halves then season with black pepper.
POACHING CHICKEN-------.
Place the chicken breasts in a saucepan.
Cover with water and 1/2 teaspoon salt (and 1 bay leaf optional) bring to a simmer.
Lightly simmer over low heat for about 15 minutes.
Remove from heat and let sit in the water for about 10 minutes.
Cool and chop.