Kittencal's Chicken Crescent Roll Casserole
SharonChen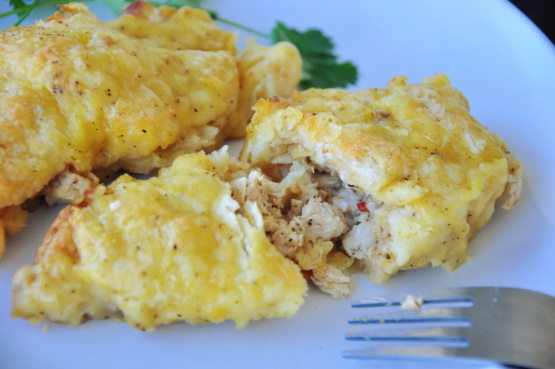 This will also work great with turkey; if you do not have chicken breasts, then use any leftover cooked chicken. If desired you can fill the crescents just with the filling mixture and omit the soup, just brush with butter before baking. They are wonderful just stuffed with the filling! A few members have experienced a soggy bottom, so you might want to consider just drizzling half (or even a little less) of the soup mixture on top and a little around the sides of the crescents, then save the rest of the soup mixture for another time (this will help prevent a soggy bottom). You may use the jumbo crescent rolls and stuff with more chicken mixture :)

This was a delicious and comforting casserole! However, I made a few adjustments. I used cream of mushroom soup and turkey instead of the cream of chicken soup and chicken combo. Also, the lack of vegetables in this dish seemed crazy to me! So I threw in half a bag of frozen mixed veggies into the soup/cream mixture. I think without the veggies, the dish could have easily been way too rich and less healthy. Also, you can cut back on the shredded cheese without it making a big taste difference, which also makes it a little less heavy on the calories. All around great concept, and a recipe you can play around with to make it your own!
2

(8 ounce) cans Pillsbury Refrigerated Crescent Dinner Rolls

1

(10 3/4 ounce) can cream of chicken soup, undiluted
3⁄4 cup grated cheddar cheese (or any cheese of choice) or 3⁄4 cup swiss cheese (or any cheese of choice)
1⁄2 cup 18% table cream (or use whipping cream)

FILLING

4

ounces cream cheese (very soft)

4

tablespoons butter (very soft but not melted)
1⁄2-1 teaspoon garlic powder (optional)
1⁄3 cup onion, finely chopped (can use green onions)

2

large cooked chicken breasts, finely chopped (or use about 2 cups, can use cooked turkey)
1⁄2-3⁄4 cup finely grated cheddar cheese
1⁄2 teaspoon seasoning salt (or use 1/2 teaspoon white salt or to taste)
1⁄2 teaspoon ground black pepper (or to taste)

2 -4

tablespoons mayonnaise or 2 -4 tablespoons whipping cream

1 -2

cup grated cheddar cheese (for topping)
Set oven to 350°F.
Butter a casserole dish (any size to hold crescent rolls).
In a saucepan, mix half and half cream, 3/4 cup grated cheese (can use more cheese if desired) and undiluted chicken soup (can season with black pepper if desired).
Heat just until the cheese melts (do not boil).
For the filling --- (make certain that the cream cheese and butter are very soft) in a bowl, mix the soft cream cheese with butter until very smooth, then add in garlic powder (if using).
Add in the chopped chicken, onion and cheddar cheese; mix well until combined.
Add in 2 tablespoons whipping cream or mayonnaise; mix to combine (add in a little more if the mixture seems too dry).
Season with seasoned salt or white and black pepper to taste.
Unroll the crescent rolls.
Place 1 heaping tablespoon chicken mixture (or a little more) on top of each crescent triangle, then roll up starting at the thicker end.
Drizzle a small amount of soup mixture on the bottom of the dish.
Then place the crescent rolls seam-side down on top of the creamed mixture in the casserole.
Drizzle the remaining sauce on top (you don't have to use the full amount of cream sauce, just use as much as desired) and sprinkle with 1 cup (or more) grated cheese, or amount desired.
Bake for about 30 minutes.