Kittencal's Chicken and Mushroom Alfredo
lazyme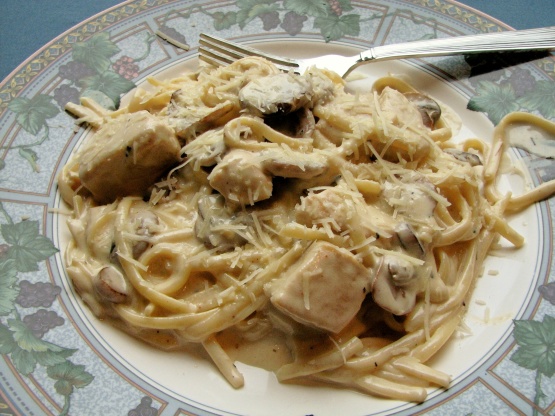 This recipe was developed with my Kittencal's Alfredo Sauce --- the amounts listed are enough to serve 6-8 people but it depends on the size of the portions you serve, you may reduce the recipe by half but I suggest to make the full amount I always do for my family of four, if there is any leftovers it always gets eaten for a midnight snack or you can serve it the next day --- the amounts for the mushrooms, chicken breast and pasta are really only a guideline you may increase or decrease slightly --- this is actually a quick recipe to throw together once you have cooked the chicken and mushrooms and to save time they may be cooked up to a day in advance, the chicken breast may be cooked in the oven instead for the skillet at 400°F. for 25 minutes, cooled then cubed --- cooking time is only for the alfredo sauce --- you will *love* this dish! :)

Excellent! I made it with poached chicken breasts, shiitake and portabello mushrooms. Also added an onion to the saute. Used fresh thyme, and a portion of the flavorful poaching liquid in place of some cream -- substitution worked well in this case. Love the cayenne too.
In a 4-quart heavy pot or a large skillet that is equivalent or close to that size, heat oil over medium heat; add in the chicken breast and season lightly with salt and pepper; cook on all sides until just done (about 8-10 minutes, do not overcook or the chicken or it will be dry) remove to a large bowl.
In the same skillet melt 2 tablespoons butter over medium heat; add in mushroom slices and sauté until browned (about 10-12 minutes) transfer to the bowl with the cooked chicken; set aside while cooking the pasta and preparing the sauce (or you may cover and chill for up to 24 hours).
Cook the pasta in a large pot of boiling salted water until just al dente (don't overcook pasta) drain but do not rinse.
Place cooked pasta in a large bowl and toss with 2-3 tablespoons oil or butter to prevent sticking; set aside.
For alfredo sauce; wipe the skillet clean, then melt 4 tablespoons butter over medium heat.
Add in thyme, cayenne pepper and fresh garlic; stir for 2 minutes.
Add in flour and stir for 1 minutes.
Add in the half and half cream and whipping cream; bring to a simmer over medium heat stirring constantly.
Reduce heat to low then mix in Parmesan cheese; cook stirring over low heat until heated through and bubbly.
Season with seasoned salt or white salt and black pepper to taste.
Add/mix in the cooked cubed chicken and mushrooms; cook stirring for about 10 minutes until heated through.
Spoon the sauce over the cooked pasta and toss, then sprinkle more Parmesan on top.
This sauce will thicken upon standing.