Kittencal's Buttery Flaky Shortbread Pan Cookies
persi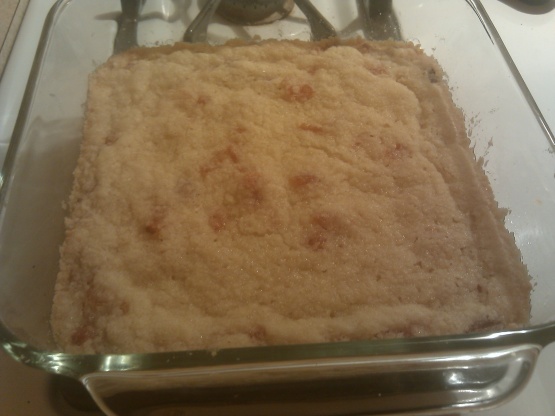 This recipe will make two pans of the most delicious flaky buttery shortbread and may I add these travel well for shipping ;-) --- using a food processor insures that you will have a very tender flaky cookie, plus they take only minutes to make, these may be made up to 2 weeks in advance and store at room temperature in an airtight container, but they won't last that long lol! and they only get better with time! If you are using unsalted butter then increase the salt to 1/4 teaspoon --- make certain to slice the cookies while it is still warm and then cool completely --- while the baked cookie dough is still warm you can cut into small shapes or circles if desired --- you will *love* these!

Top Review by persi
This was my first attempt at a shorbread cookie. The dough was not what I expected, it was less like dough and more like moist crumbs. Super easy to prepare though! Pressing it in the cake pans was a lot like making a graham cracker pie crust. I divided my plain dough in half and added 1/2 cup dried cranberries and the zest of 1 lemon to one half. To the other I added 1/2 cup dried apricots and 1/4 tsp almond extract. The results were fabulous! I used glass pans and let the edges just start to brown before pulling from the oven, about 33 minutes for me. I got 16 cookies per pan and they are soft with a nice chew and hold up very well. I was worried when I first pulled them from the oven as they seemed very delicate but after cooling completely I do believe they will package up nicely for travel. I can confirm the baked cookies freeze well and thaw without any trouble. My favorite was the apricot, while I love cranberry lemon, the more subtle apricot and almond flavoring really complimented the rich butteriness of the cookie.
Set oven to 325°F (set oven rack to second-lowest position).
Prepare two (8-inch) round cake pans (can use 8 x8 -inch square pan also).
In a food processor blend the first 4 dry ingredients.
Add in the cold butter pieces, and blend for about 30 seconds or more to combine.
Mix in the chopped maraschino cherries or cranberries.
Divide the mixture evenly between the two pans, then press the dough in firmly.
Bake for about 30-35 minutes (longer for more crispy) or until baked through and pale golden (don't over bake!).
Cool the baked dough in pans for 10 minutes.
While the baked dough is still warm cut into small squares (or wedges if using a round pan) then cool completely.
Using a spatula transfer to a plate.
Sprinkle lightly with powdered sugar if desired.
Delicious!