Kittencal's Best Deep Dark Chocolate Layer Cake
Fiddler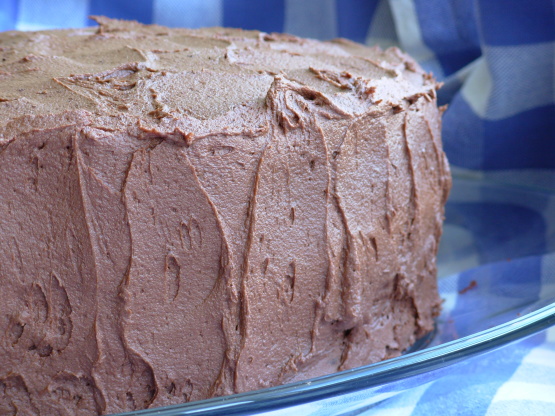 This will probably be the only layer cake you will ever use, it's a rich, moist chocolate cake that tastes more like chocolate fudge than a cake, you will be making again and again! --- I have also made this using room temperature Crisco butter-flavor shortening in place of butter --- to take this to yet another level add in 2-3 tablespoons of your favorite liqueur in place of the vanilla, I like Kahlua! --- also see my Kittencal's Chocolate Frosting/Icing

:( I was so excited to make this cake...Kittencal has some fantastic recipes...but this cake came out dry, dry, dry. It's very lightweight, dense, very firm and very crumbly. Something akin to an angel food cake. The batter LOOKED fantastic so I was really optimistic. I only cooked until a toothpick came out clean. I made the recipe as directed except for making homemade buttermilk and making two round 9" cakes instead of layering them. The icing is this cake's saving grace. It's a lot of cocoa powder and I had to add more cream to make it spreadable. I also only used 2 cups powdered sugar instead of 4 and it was plenty sweet (and stiff).

My children, on the other hand, loved it and wanted more. For this reason I'm giving it 3 stars...though I don't think I'll be making it again. Flavor-wise, it was good, but I just couldn't get past the dry aftertaste.
Set oven to 350 degrees F.
Line bottoms of two buttered 9-inch round cake pans with parchment paper.
In a large bowl, beat butter and brown sugar, until light and fluffy (about 5 minutes).
Add in eggs, one at a time, beating well after each addition.
Beat in vanilla and coffee granules.
Sift together flour, cocoa, baking soda and salt in a bowl.
Add the flour mixture into the creamed mixture, alternating with the buttermilk, in three additions, scraping down the sides of bowl each time.
Divide batter between prepared pans.
Bake for 30-35 minutes, or until cake tests done.
Turn onto a rack and remove paper.
Cool and frost.
FOR FROSTING: Beat butter until creamy.
Blend in cream and vanilla; beat until very smooth.
Add the cocoa and icing sugar.
Beat on high for 45 seconds.