Kittencal's Best Chinese Fried Rice With Egg
Breezytoo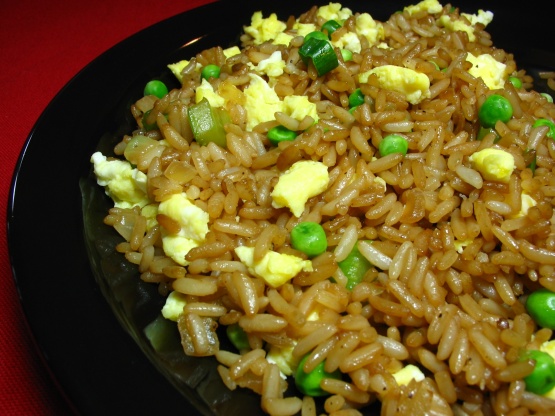 The secret to the best Chinese fried rice is onions, garlic and sesame oil, you may add in cooked chicken, beef, pork or shrimp, also you may add in some frozen thawed peas or fresh sauteed or canned mushrooms, whatever you have handy in your fridge! --- for this recipe it is best to use slightly undercooked rice that is more firm that soft the best recipe is the firm option on my Kittencal's Perfect Cooked White Rice (Soft, Medium or Firm) the amount of egg does not matter, if you like lots of egg then use as many eggs as desired, if you like a little heat then add in some cayenne pepper, I most always do you and you will probably need to adjust the soy sauce to your liking --- you will love this rice!

I made a batch of this for my bento lunches and I am so happy I did! The flavour is fantastic...my kids and my husband started eating it straight out of the wok. I had to tell them it was for future lunches. The success of this recipe truly relies on using sesame oil and a top quality soy sauce. I prefer Kikkoman as I've found it to be the best flavour.
I added shredded carrots, mushrooms and a few bean sprouts. I now have the perfect fried rice recipe...thanks for posting, Kittencal!! Another winner from you. :)
In a small bowl beat the eggs with water.
Melt the butter in a large skillet or a wok over medium heat or until sizzling.
Add in eggs and leave flat for about 2 minutes or until cooked through; remove to a plate then chop.
Heat oil in the same skillet; add in onion and saute until softened (about 3-4 minutes, adding in the garlic the last 2 minutes of cooking time).
Add in cold rice, soy sauce, sesame oil and black pepper; stir-fry tossing continuously for about 5 minutes (adding in more soy sauce and black pepper if needed to suit taste).
Stir in the egg and green onion.