Kittencal's Best and Easiest Baby Back Ribs
Nif_H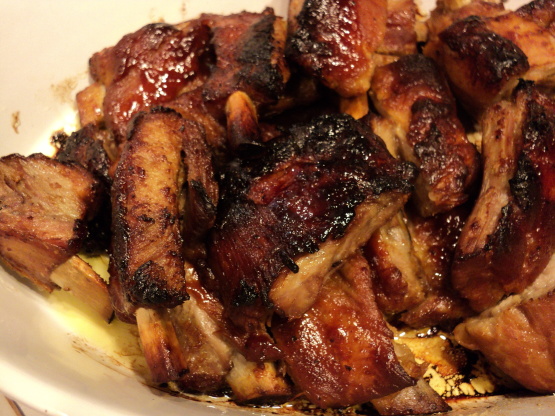 Plan ahead these ribs need to marinate 8-24 hours, you can also cook these on the outdoor grill, punch a few holes on top of the foil to allow steam to escape and to absorb the smoke flavor --- use your own favorite BBQ sauce Sweet Baby Ray's good to use, the honey needs to be added into the BBQ sauce to tenderize so do not omit, the best thing about this is there is easy clean-up! --- and yes you can also make them on the grill

This recipe was so simple and it turned out great. We marinated the ribs overnight and then smoked them in the smoker outside all day - first without foil to allow the smoke flavor in and then wrapped them in foil at the end. They were fall off the bone delicious. Thanks for posting!
2

racks of baby-back pork ribs

1

(8 ounce) bottle barbecue sauce (or one 18-ounce bottle)

1

tablespoon liquid honey

2

large piece heavy-duty aluminum foil
Spray the inside of each piece of foil liberally with non-stick cooking spray.
In a bowl mix the barbecue sauce with honey until well combined.
Brush both sides of the ribs liberally with the BBQ sauce reserving some to brush on towards the end of cooking.
Place each rack onto top of the greased side of foil, then wrap tightly.
Refrigerate 8-24 hours.
Set oven to 300 degrees F.
Bake the ribs wrapped tightly in foil for 2-1/2 hours, opening up the foil the last 20-30 minutes and basting with more sauce (remove about halfway through cooking and drain any water/grease that has accumulated in the foil).
If desired you may place the ribs under the broiler heat for about 7 minutes per side.