Dissie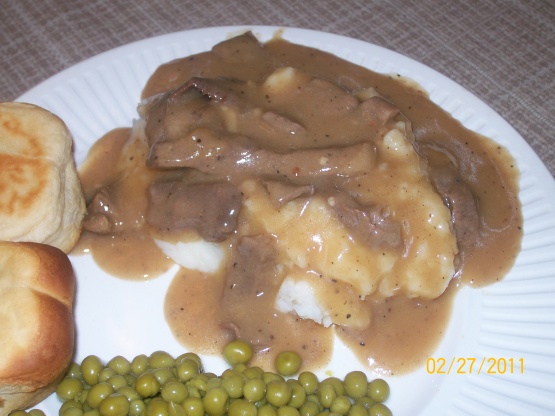 This is not a fancy beef gravy and I am not claiming it to be the best, but for the ease of this recipe it's sure a great gravy that can be used for many recipes --- my favorite way to use this gravy is prepare as directed then add in slices of cooked leftover beef roast, steak or cooked meatballs to hot gravy, then serve on toasted buns with mashed potatoes--- the amount of flour listed will give you a thick gravy if you prefer a thinner gravy reduce the flour by 1 to 1-1/2 tablespoons --- do not add any salt if desired it may be added in at the end of cooking --- also see my Kittencal's Easy No-Fail Make Anytime Turkey Gravy

I just made this the other day and it turned out really good. I followed the recipe as written, put over meatloaf and mashed potatoes. A real winner! But then I havn't ever been disappointed with any recipe of yours Kitt.
In a saucepan over medium-high heat melt butter or margarine until bubbly (do not brown).
Add in the black pepper, garlic powder (if using) and flour, then whisk for 1 minute.
Slowly add in the beef broth and beef bouillon powder (or beef broth mixed with pan drippings) stir over low heat until smooth, thickened and bubbly about 3 minutes).