Kittencal's Banana Cinnamon Snack Cake or Muffins (Low-Fat)
Redsie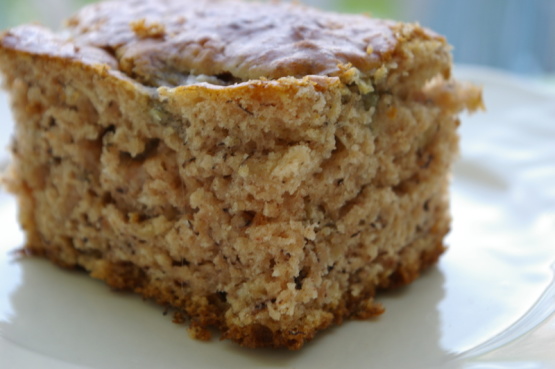 A wonderful lower-fat cake/muffin recipe that's easy to make as everything is mixed by hand --- this recipe was tested and developed using low-fat yogurt although I would think that low-fat sour cream may be substituted with good results --- visit www.kittencalskitchen.com for more low-fat recipes!

fantastic recipe Kittencal! I doubled it and put it in a bundt pan. I also used splenda and used vanilla yogurt...It turned out great! Thanks...
Set oven to 350 degrees F.
Grease a 8 or 9-inch square baking pan or line muffin tins with paper liners.
In a large bowl, combine flour, sugar, baking powder, baking soda, cinnamon and salt.
In a small bowl, whisk together yogurt, banana, oil, egg and vanilla.
Pour over dry ingredients, and gently stir with a spatula until JUST blended (do not over mix).
Spread the batter into prepared baking pan.
Bake for about 25 minutes, or until the top of the cake is light brown, and edges begin to pull away from sides of the pan (bake slightly less time for muffins).
Cool cake in pan on rack for 10 minutes.
Loosen sides of cake with a dinner knife or a spatula.
Invert cake right side up and cool completely.
Sprinkle lightly with powdered sugar.