Kittencal's Bakery Coconut Cream Pie
SharonChen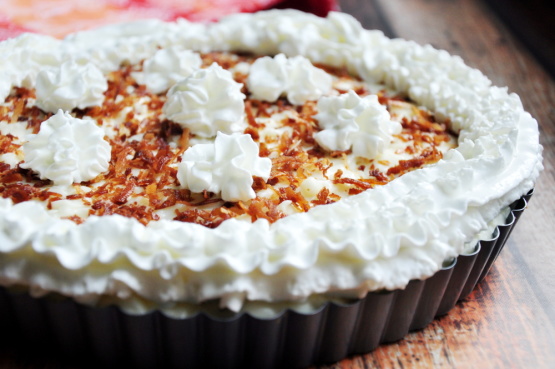 This is a bakery-quality coconut cream pie, if you are searching for an everyday ordinary pie then pass this by, but if you want the best coconut cream pie on the face of this earth and one that brings you rave reviews then I suggest this recipe, this is one I developed years ago, it's the addition of whipped cream that makes this special, if you are only using the table cream I strongly suggest to use the 2 teaspoon coconut extract, and if you *are* going the coconut milk method, just use one 398-ml can of a good quality coconut milk with half and half cream to measure 2-1/2 cups and still add in the the coconut extract, the more coconut flavor the better I say, then proceed with same directions, if you don't want the texture of shredded coconut in the filling you may omit if desired, really this pie has so much flavor you won't even miss it! --- To make it a Pina Colada pie, add 2 tbsp dark rum into the whipped cream, and fold 1/2 cup drained crushed pineapple into filling with whipped cream, plan ahead there is a chilling time for the pie --- see my Kittencal's No-Fail Buttery Flaky Pie Pastry/Crust

Kittencal has NEVER let me down, and this is no exception. My hunny mentioned while eating at Baker's Square that coconut cream was his fave, but he was a tough critic and his slice was under par. Valentines day comes along, and I try Kitten's recipe of course. Let me tell you, he was floored, raving with praise for this pie. It was the best of the best, ever. Need I say more? Oh, I followed the recipe to a T. Right down to the coconut extract.
1

(9 inch) deep dish pie shells, baked (a 10-inch is even better!)
1 1⁄4 cups 18% table cream (or use half and half cream)
1 1⁄4 cups coconut milk (or use 2-1/2 cups of 18% table cream or half and half cream)

1

cup sweetened flaked coconut (use soft finely flaked coconut only)
3⁄4 cup white sugar, divided
1⁄4 cup cornstarch

2

eggs

2

teaspoons coconut extract (optional)

2

teaspoons vanilla

1

cup whipping cream, unwhipped

GARNISH

2

tablespoons toasted sweetened flaked coconut
In a saucepan, heat half and half with the coconut milk over medium heat, until steaming.
In a large bowl,whisk 1/2 cup sugar with the cornstarch; whisk in the eggs until blended.
Gradually mix in hot milk mixture into the egg mixture to thin, in a steady stream.
Return the mixture to saucepan; cook, over medium heat, whisking constantly, for about 10 minutes, or until thickened to pudding consistency.
Transfer to a bowl; stir in coconut extract (if using) and vanilla then mix in 1 cup coconut.
Place plastic wrap directly on surface of pudding mixture; refrigerate until cool.
In a bowl, whip whipping cream with 1/4 cup of the remaining sugar to soft peaks.
Set 1-1/2 cups of the whipped cream aside to use for topping.
Fold the remaining whipped cream into the cooled filling; spread into pie shell.
Using a piping bag, or with a spoon, garnish top with reserved whipping cream.
Sprinkle with 2 tablespoons toasted coconut.
Refrigerate for 1 hour, or until set or for up to 1 day.