Kittencal's Bakery Buttercream Frosting/Icing
Cookin-jo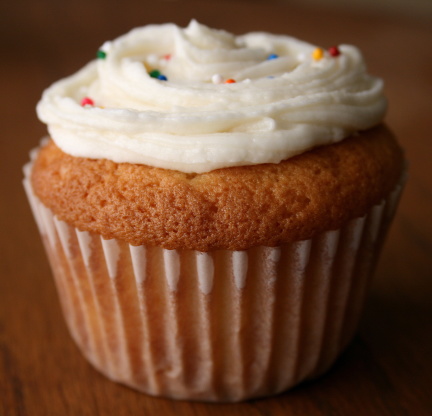 This is similar to bakery frosting and so much better than any canned! --- for extra fluffy frosting use heavy cream and make certain to beat for at least 3-5 minutes and remember to sift the confectioners sugar before using. For flavor and color you can add 1-2 envelopes 3-grams each, Duncan Hines Frosting Creations Flavor Mix, any flavor desired.
Once again you remind me why I always look for your name when I search out a recipe. Kittencal has actually become synonymus with awesome in our house; in fact, when my 9-year-old raved about how yummy this frosting is, I said "It's a Kittencal," to which he responded with a shrug, "That explains it." :) YUMMY!!!!
118.29

ml crisco white shortening, room temperature (white)

59.16-88.74

ml 18% table cream or 59.16-88.74 ml heavy cream, unwhipped or 59.16-88.74 ml half-and-half cream or 59.16-88.74 ml milk

1.23

ml salt (heaping)

2.46

ml almond extract

9.85

ml vanilla or 4.92 ml almond extract

1182.95

ml confectioners' sugar, sifted (or as needed)

0.13-0.26

ml food coloring (OPTIONAL ( OR for flavor and color, use 1-2 envelopes 3-grams each, Duncan Hines Frosting Creations )
In a large bowl using an electric mixer at medium speed beat together the shortening and margarine or butter with cream, salt almond extract and vanilla until smooth (about 3 minutes).
Add in sifted confectioners sugar starting with 4-1/2 cups; beat very well until smooth and fluffy, adding more confectioners sugar or cream or milk until you achieve desired consistency.
Add in the food coloring or Flavor Creation powder (if using) until the desired shade is achieved.