Kittencal's Apple Crisp Dessert
Jazin18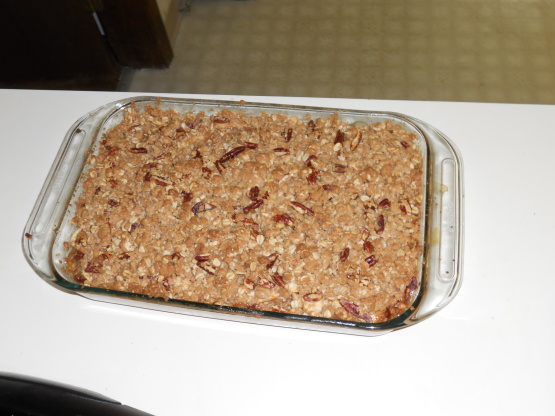 This is a tried and true recipe that I developed, you will not find it anywhere else! it has a delicious cinnamon-oatmeal crumb mixture on the bottom then sprinkled on the top with the apples baked in the middle --- the oatmeal mixture *must* be made in two separate bowls, cooking time is estimated it will vary depending on what kind of apples you use and the size of the slices --- it is at it's best when eaten the same day it is made and served warm.

Top Review by etully
This was most excellent. I was looking for something just a tiny bit different so I like the idea of the crust on the top and bottom. I made this recipe in two 8 inch square pans. I used 1 and 1/2 cups of the oatmeal mix on the botton of each pan. Didn't use nuts because of a family allergy. Using the smaller pans I cooked it for 30 mins. This will be my go to apple crisp recipe from now on.
Set oven to 350 degrees F.
Set oven rack to second-lowest position.
Grease a 13 x 9-inch baking dish.
Prepare two separate medium bowls.
In each bowl place 1 cup oats, 3/4 cup brown sugar, 1 cup flour, 1-1/2 teaspoons cinnamon, 1/4 teaspoon baking powder and 1/4 teaspoon baking soda; toss to combine.
To each bowl mix in 1/2 cup plus 2 tablespoons melted butter; mix well to combine then finish mixing using your hands until the mixture is crumbly.
To one bowl only add in 1/2 cup nuts (this bowl will be your topping mixture).
Sprinkle the bowl without the nuts into the bottom of the baking dish; pat down only slightly with hand.
For the apple filling; in a bowl toss the apple slices with lemon juice.
In a small bowl mix together 1 cup sugar, 2 tablespoons flour, 2 teaspoons cinnamon and nutmeg; toss to combine; add to the sliced apples then toss to combine.
Place the apples over the crumb crust.
Sprinkle the remaining topping (with nuts) over the apple mixture.
Bake for about 40-45 minutes or until apples are fork-tender (stick a fork into the apples after about 35 minutes of cooking time to see if they are cooked to desired doneness).
Serve with vanilla ice cream.