Kittencal's Almond Biscotti
bindifry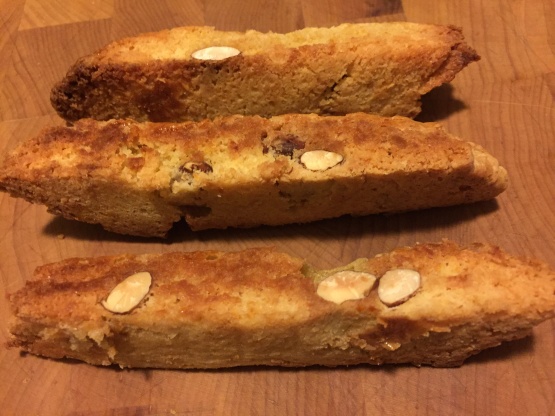 This recipe goes back over 30 years! if desired you could add 1/2 cup mini chocolate chips into the batter and for the holidays add in some diced mixed candied fruit --- for perfect results all ingredients must be measured accurately, for a sweeter taste increase the sugar to 1 cup or a little more, I normally get 24-25 cookies from this recipe but it will depend on the size you slice them - these will keep well in a airtight container for up to 2 weeks or you may freeze so don't be afraid to make these well before the holidays! :)

Top Review by Zurie
Kittencal, surely you don't need another 5-star review?? (LOL!!) These are great: real genuine biscotti. I took your words to heart: to measure accurately. I did not have a 3/4 cup of unblanched almonds, and decided to make up the shortfall with pistachios, which worked just fine. I did not have any orange, so used lemon rind and some orange extract. Like one of the reviewers, I also found the batter very sticky and quite hard to handle, but managed with more flour on the wooden board, when preparing the batter for the oven. I'd like to add the warning that this recipe is perhaps not for novice bakers. I used a sharp serrated knife for the cutting of the baked biscotti -- do not use an ordinary carving or paring knife, no matter how sharp! I'd also like to warn bakers with convection ovens that I found 170 deg C (about 338 deg F?) to be the right heat, and for the final baking I turned my oven to 160 deg C, which is 325 deg F. If I'd used 350/180 the biscotti could have burnt. (Mind: this is just for fan ovens, which tend to bake very fast). A GREAT biscotti, Kittencal! I'm definitely going to bake another batch. And by the way, I also got 24 cookies -- you were spot on. Thanks!!!
1 3⁄4 cups flour

2

teaspoons baking powder
3⁄4 cup unblanched whole almonds

2

eggs
3⁄4 cup sugar
1⁄3 cup butter, melted

2

teaspoons vanilla

1

teaspoon almond extract

2

teaspoons grated orange rind, finely grated

1

egg white, lightly beaten
Set oven to 350 degrees F.
In a bowl, sift together flour, baking powder and almonds.
In another bowl, whisk together, eggs, sugar, butter, vanilla, almond extract and grated orange rind; stir into flour mixture until a soft sticky dough forms.
Transfer to a lighty floured surface; form into a smooth ball.
Divide dough in half.
Roll each into a 12-inch long log (doesn't have to be exact).
Transfer to a ungreased baking sheet.
Brush tops with slightly beaten egg white.
Bake for 20 minutes.
Remove from oven; let cool on pan for 5 minutes.
Transfer each log to a cutting board.
Using a serrated knife cut diagonally into 3/4-inch thick slices.
Stand cookies upright (on cut sides) on baking sheet.
Bake for 20-25 minutes longer, or until golden.
Transfer to a rack; cool.
Note: cookies can be stored in an airtight container for 2 weeks.