Kittencal's 5-Minute Cinnamon Flop Brunch Cake
Calee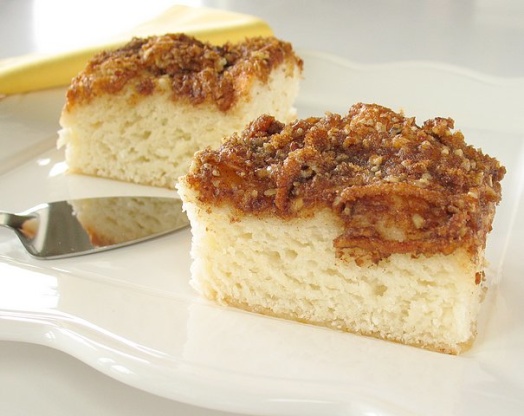 Except for the the milk and small amount in the egg, the cake itself has very little fat and using low-fat milk will keep the fat to a minimum, I have stated the egg as optional, I strongly suggest to add it in for a more cake-like texture -- If you are looking for a fancy cake to serve then this is not it however for the ease of this cake it is darn good and makes a great weekend brunch cake, it's like a combination of a cake and cinnamon bun all in one, ridiculously simple to make as it's all mixed by hand and takes like 5 minutes to throw together, try adding in some chopped strawberries, apples or blueberries, raisins or dried cranberries, this recipe is a blank canvas, so go ahead and add in fruit, nuts chocolate chips whatever you wish, and to kick this up a notch drizzle Kittencal's Easy Creamy White Glaze on top :) --- servings are only estimated

the longest that it took me while putting this together was clipping my nails. That is because I mixed the batter with my bare hands to avoid overmixing. You see when Kitten's giving instructions I listen VERY carefully and seriously who wouldn't when the results are this great and consistent every time. I followed the recipe to a T and could not believe what a darned good cake I'd just baked. I also contemplated topping it with kitten's glaze but it seemed like too much work and am actually glad because the level of sweetness is just right. Now all I have to do is make a dry mix of the ingredients and apply to the Guiness Book of World Record for throwing together the fastest, tastiest cake on the planet!
Set oven to 350 degrees F.
Prepare a greased 13 x 9-inch baking dish, or two 8 or 9-inch round cake pans (although the batter will seem like it will fit into only one 8 or 9-inch pan, this flop rises very high and will run over the sides if baked in just one pan).
In a bowl mix the 2 cups flour, 1-1/4 cups white sugar, milk, vanilla or almond extract, baking powder, pinch of salt and egg (if using) until just combined careful not to overmix.
Pour into prepared baking pan/s.
Generously spread brown sugar and cinnamon on top.
If desired sprinkle chopped walnuts or pecans over top.
Drizzle melted butter over top.
Bake for about 20-25 minutes for 8 or 9-inch round cake pan, and about 30 minutes for a 13 x 9-inch pan.